Inside the Life of a Senior Student Docent
Author:
Juasline Plasencia 23'
Photo Credit
Janelle Rodriguez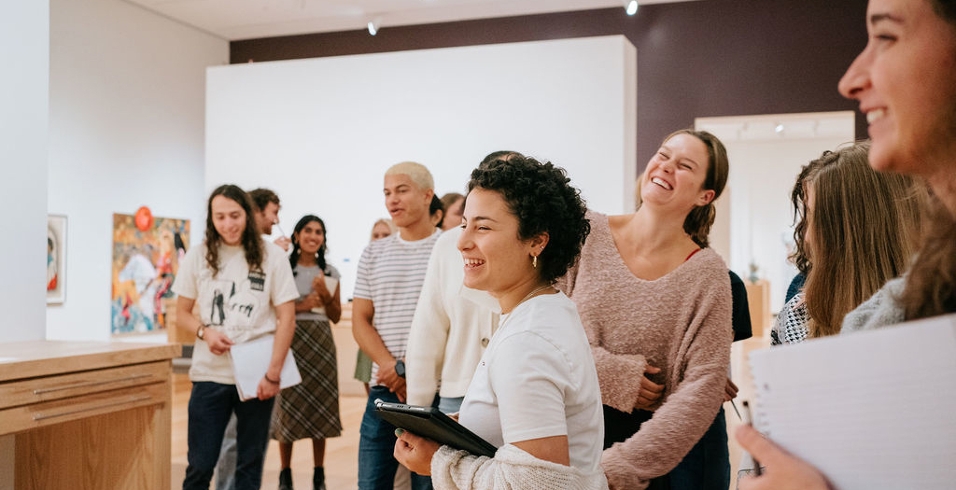 Wednesday, December 28, 2022
As a student docent at the Wellin, this year started off with a Welcome Back Gathering where docents got to mingle and reconnect after returning from summer vacations, study abroad trips, and more. A series of training sessions followed, aimed at preparing us for the opening of the Wellin's 10 Year Anniversary Exhibition, one of the museum's largest and most diverse exhibitions to date. The docents spent countless hours conducting research on all the artists and their artworks to ensure the accurate transfer of information from the museum to the Hamilton community. This also meant inviting the community to formulate their own interpretations of the artworks through the writing of exhibition labels, a new initiative that started this year. Finally, on September 17th, the Wellin opened its doors and welcomed students, faculty, and community members to explore Dialogues Across Disciplines for the very first time. The exhibition features 146 artworks from the Wellin's collection, including at least one piece by each artist that has had a solo exhibition at the Museum, two brand new commissions specially made for the exhibition, and a variety of other pieces acquired in the last ten years that range from ancient Roman vessels to modern day film.
A week after the grand opening, the Wellin kicked off "Fallcoming and Family Weekend'' with a panel discussion called "What Museums Can Teach Us," which featured words of wisdom from current docents and alumni. Students also welcomed their families to campus and were given the opportunity to participate in two tours of the exhibition led by me & fellow student docent Henry Wilson '23. Since the exhibition is so large, much of our preparation for the tours consisted of figuring out a guiding theme and then selecting artworks that would allow us to have a larger conversation about the central idea. Thanks to the expansiveness of the Dialogues Across Disciplines exhibition, we were able to make connections between artworks along a variety of different themes ranging from culture, sexuality, identity, astronomy, and so much more.
From September 15th to October 15th, the Wellin also celebrated National Hispanic Heritage month with a Latin American Studies reception hosted by Professor Mackenzie Cooley. The event included food catered by a local Dominican restaurant called "El Barajo," and tours led by docents that focused on the pieces made by Latinx artists both in the exhibition and the Object Study Gallery. To finish off this celebratory month, student liaison assistant Fatima Oliva '23 organized the 3rd annual Latinx Art Walk in collaboration with La Vanguardia, a tradition she began her first year at the Wellin and a tradition I hope continues to live on in her legacy.
During the month of October, the Wellin also hosted many other events including a needle felting open studio session, a Wellin Kids thread and lace composition event, weekly Art Yoga sessions on Fridays, and the Weekly Planner Release Party which debuted the first ever weekly planner created by docent alumna Maddie Hurtgen and other student docents. On October 7th, Wendy Wellin came to visit for Trustee Weekend, gracing us with her presence for a docent Meet & Greet. Later that same day, the Wellin hosted a reception for the other trustees which included remarks by President Wippman and docent led tours of the new exhibit. The month ended on a spooky note with the first ever HalloWellin costume party which featured live music from student DJ Alex Weremchuk '24, and Wellin merch for the costume competition winners.
When I reflect back on this event-filled semester, I realize that I have only shared a fraction of all of the events and class visits the Wellin has hosted, and that there were so many other special moments shared between the Wellin staff, students, docents, and community members. I also noticed that while our exhibition this year focused on reflecting on the 10 years since the museum opened its doors, there were also a surprising number of "firsts" and new traditions that we were able to launch thanks to a post-COVID era where we as a community once again have the freedom to reunite in person and foster the relationships we so dearly cherish.

More Blog