Jeffrey Gibson Debuts Film Excerpt :
Recap from Hamilton College Leadership Weekend 2017
Author:
Katherine D. Alcauskas, Collections and Exhibitions Specialist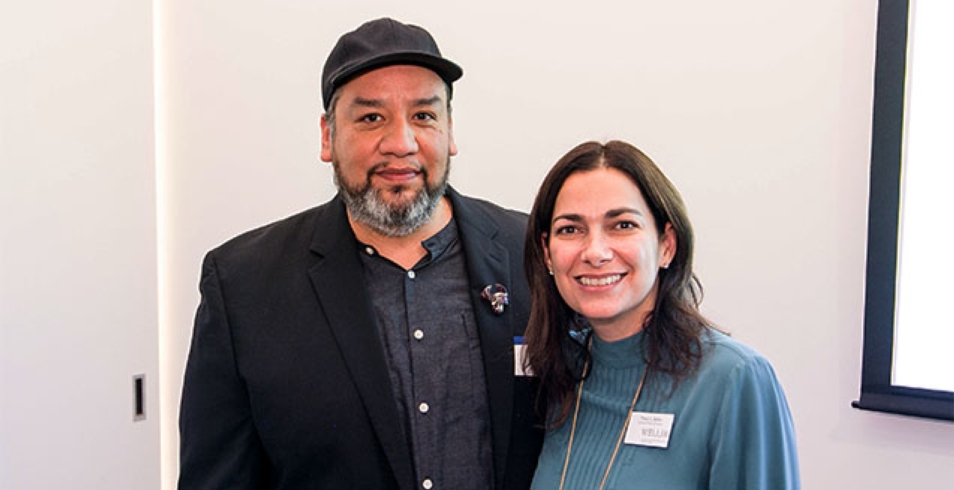 Over 60 Hamilton alumni, parents, and friends joined Wellin Museum staff at an art-filled event in the Chelsea neighborhood of New York City on Saturday, Dec. 2, as part of Hamilton College's Annual 1812 Leadership Circle Weekend. The festive evening kicked off with a slideshow of artworks by contemporary artist Jeffrey Gibson to whet attendees' appetites for the upcoming fall 2018 exhibition of the artist's work at the Wellin, to be held Sept. 8 through Dec. 10, 2018.
Gibson then shared an exclusive sneak-peek excerpt of a film supported by the Wellin that he is in the process of creating. The film will debut in its entirety in the Wellin's exhibition. The film, shot on the Choctaw Reservation in Mississippi, where members of Gibson's extended family reside, features an individual who identifies as female, but was born male, and contemplates identity in relation to Native American culture. After the showing, Gibson, in discussion with the Wellin's Johnson-Pote Director Tracy L. Adler, provided context for the film and spoke to his motivations in creating the film - relatively new territory for the painter-turned sculptor.
Gibson informed those gathered that the idea of the film had been conceived years earlier and was inspired by some of his own fears in reconciling his Native American heritage with contemporary culture. "It's always a thrill to see established artists step into a new medium, and experiencing a rough cut of Jeffrey Gibson's film was no exception," said recent graduate Elliot Nathan '17, who added, "The following question and answer session was wide ranging and incisive and helped to clarify the intersection of LGBTQ and Native American identities in his practice."

Following the viewing, Julia Jacquette, whose work was featured in the Wellin's spring 2017 exhibition Julia Jacquette: Unrequited and Acts of Play, mingled with attendees and signed copies of the recently-published exhibition catalogue of the Wellin's installation of her work. Nathan shared the sentiment of many in attendance when he said, "I'm grateful that although I'm far from Hamilton, events like this allow me to feel connected to the arts community on the hill."
More Blog