Last Chance Exhibition Review
Author:
Annelise Vought '19
Photo Credit
John Bentham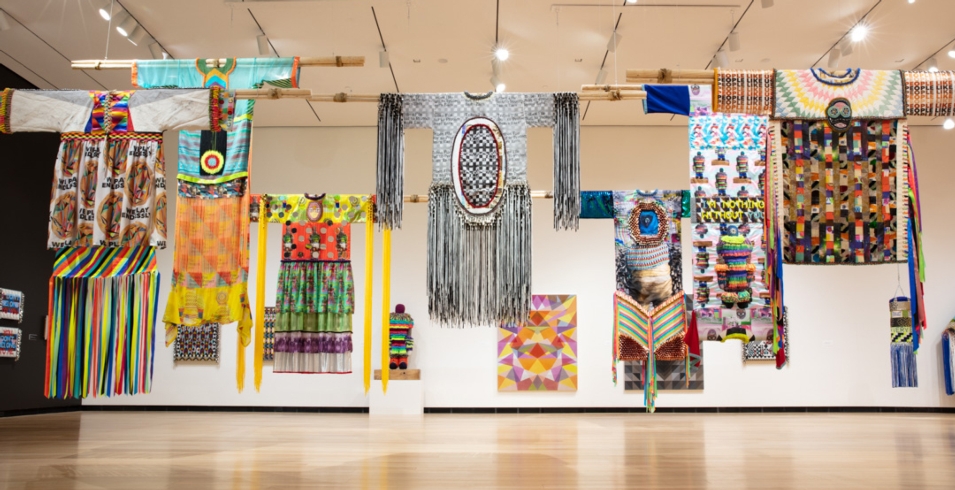 Run, don't walk to see Jeffrey Gibson: This Is the Day, which closes December 9th, 2018. As a student docent, I enjoyed the opportunity to preview the exhibition on tours led by both the Johnson-Pote Director Tracy Adler and Jeffrey Gibson himself. Entering the gallery space for the first time, I was immediately dazzled by the wealth of colors, materials, and shapes set out before me. I began to weave through suspended garments, admiring both their scale and detail. In typical museum-goer fashion, I wondered: "What do the words, pictures, and symbols mean? How can I make sense of them?" As if reading my thoughts, Gibson explained that his intentionally ambiguous garments lack one single prescribed interpretation, allowing viewers like me to engage freely with them. Throughout his creative process, Gibson draws from a range of references: his Choctaw and Cherokee heritage, Comme des Garçons fashion, the 2016-2017 Dakota Access Pipeline protests, queer culture in the 1980s and 1990s, and much more. As the tour proceeded, I began to see that this exploratory and open approach to art permeates all pieces in the show.

Next, the row of helmets captured my attention. These elaborately embellished sculptures provide an impressive display of Gibson's vast collections of objects. A collector since childhood, Gibson is always looking to find unique items for his works. I marveled at the tens if not hundreds of different clown figures Gibson incorporated into the "Clown" helmet. Gibson drew our attention to the pyrite adorning the "Death" helmet. While glittering with the appearance of gold, fool's gold is virtually worthless. This material's deceptive value is a tension Gibson invites in his work. Another docent asked him how the "Oceana" helmet fit in with the other themes. Gibson drew initial inspiration from the bull-shark jaw he found and then the concept of ocean as exotic, uncharted territory evolved. In his youth, Gibson shared, he would pretend to be a merman, tie his feet together, and swim. The world he inhabited underwater was a non-gendered space that enabled him to be whatever he wanted to be. Like "Oceana," the other works in This Is the Day reflect an engagement with and expression of personal identity, cultural history, and topical issues. I uncover a new layer of the exhibition's complexity every time I give tours in the gallery. Don't miss out on this exhibition at the Wellin; it is well worth the trip before December 9th, 2018.
More Blog