Listen First: Cultivating Core Competencies in Museum Docents
Author:
Marjorie Johnson, Museum Educator and Docent Program Supervisor
Photo Credit
Janelle Rodriguez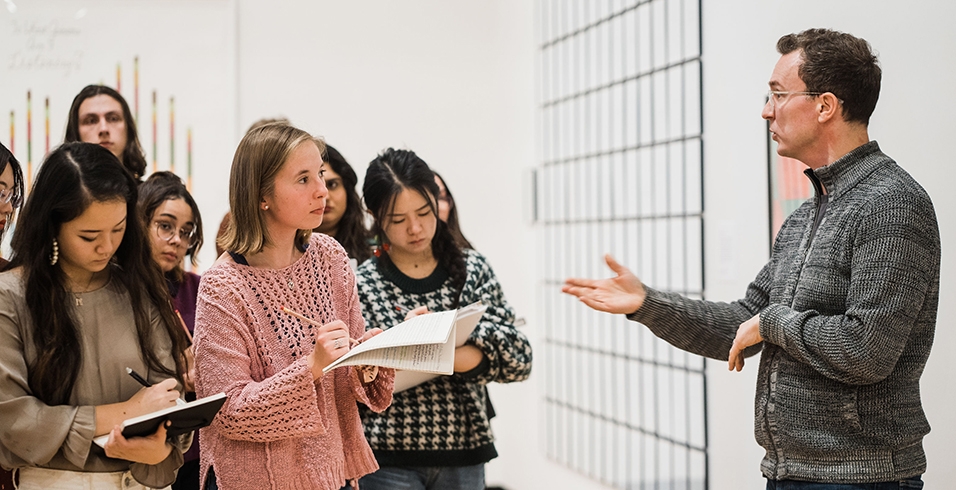 As the supervisor for the Wellin Museum docent program, I am responsible for recruitment and training of students who facilitate tours and programs at the museum. And as an active learner, leader, and teacher in the museum field, I've been listening to and participating in conversations around race, racism, access, and equity since I joined the education department at the National Gallery of Art, before coming to Hamilton College, around six years ago. Indeed, one of the reasons I feel so hopeful for our field is the energy and intensity that undergird these conversations, and the fact that they are happening in huge national institutions and small academic museums alike.
As a white woman, throughout the pandemic and this summer's protests, I've been thinking about how limited I am by my own experiences, and about the importance of listening to people whose experiences are so different from my own. I'm grateful to those who are using their platforms to share their perspectives.
One of the strategies that has struck me as being a tangible, concrete agent of change in diversifying the museum field has been recruiting for core competencies, rather than for professional or academic affiliations. I was recently reminded of this by representatives of the Broad's Diversity Apprenticeship Programming during AAM's virtual conference (1). Being able to offer paid positions in a campus art museum is truly an entry-level opportunity, in a field where "entry-level" jobs are often several rungs off the ground.
As the recruiter for the docent program, I believe it is crucial to preserve the entry-level character of this opportunity. For me, that means looking for the skills that reflect the world we wish to see in museums and that will enable us to bring that world into being. Secretary Lonnie Bunch III of the Smithsonian has emphasized this point repeatedly: "A museum's job is to define reality and provide hope" (2). In recruitment, this means looking beyond a student's internships in art museums to uncover what the candidate's skills are. When I think about the true core competencies of museum docents, I think of curiosity, enthusiasm for art, empathy, self-awareness, and openness. But the central skill that surfaces is listening. It is the most fundamental ability that I believe we need to seek out, nurture, and develop in ourselves, our colleagues, and our emerging educators.
Listening is not only a critical component of a positive work environment, or a tool for museum leaders. It is at the core of museum education and museum spaces. The museum is a space where we listen.
We listen to the voices of artists and the stories behind their subject matter.
We listen to students in tour groups responding to art.
We listen to students engaging in conversation with each other.
We listen to children using their artistic voice.
We listen to people's observations, questions, and reactions to art in order to help them build interpretations of what they are seeing.
We listen to our critics.
We listen for dissonance, harmony, and for the silences between the lines.
In the docent program, we strive to listen to each other, to our visitors, and to our community. We seek out everyone's voice.
We listen first, ask questions to provoke conversation, and take in the full expanse of thought, emotion, analysis, and human experience that unfolds.
With the approach of each new school year and the beginning of a new semester, my attention turns towards recruitment and hiring. This year will look different for the Wellin, but as long as we are able to fulfill our mission as a teaching museum, whether virtually or in person (one small group at a time), we will be looking for students who are interested in cultivating their listening skills to join our team.
---
(1) George Luna-Pena, Heber Rodriguez, Julia Latane, Pilar Tompkins Rivas, "Toward Equity: Actionable Ideas for Impactful Diversity Initiatives," American Alliance of Museum annual meeting (virtual), June 3, 2020
(2) Lonnie G. Bunch III, Keynote address, American Alliance of Museum annual meeting (virtual), June 2, 2020
More Blog