Margarita Cabrera and the Concept of Nepantla
Photo Credit
Heather Ainsworth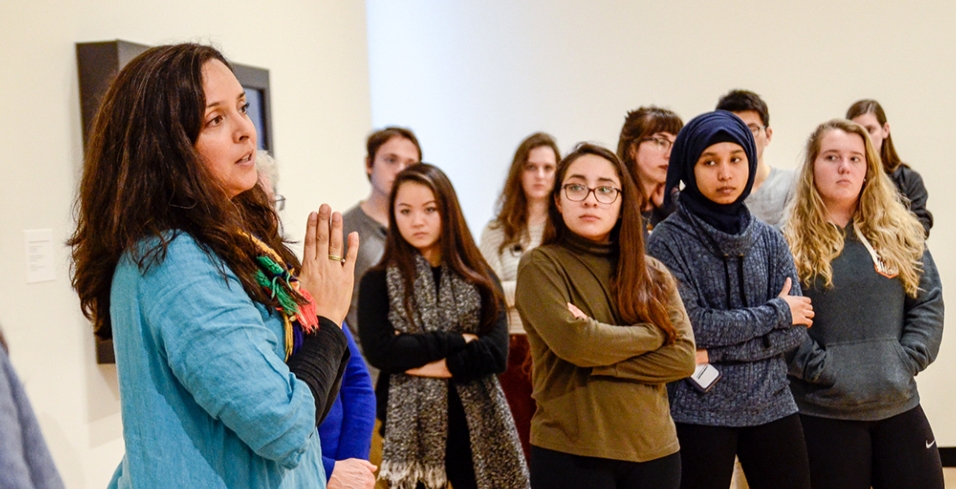 From behind the winding silhouettes of fabric cacti, a single word echoed within the gallery walls -Nepantla. Kicking off the semester's Artists in Conversation series, Margarita Cabrera hosted a discussion of her solo show, Space in Between. Border patrol uniforms provide the raw materials for Cabrera's cactus sculptures; and the fabric is transformed through hand-stitched embroidery representing stories of immigration across the Mexico-US border. Cabrera's work attempts to create dialogue about the space between the two borders of land, of violence and of protection, and of various political parties and the populations they represent. Within Cabrera's work, an exploration of Nepantla, the Aztec concept of a space in the middle, can be seen both literally and metaphorically.
Facilitated by the Wellin Museum's Director Tracy L. Adler, the discussion focused on navigating the conceptual middleground between spaces. The question most provoking in the discussion focused on the political implications of her work and the backlash received by museum goers to her manipulation of federally distributed border patrol uniforms. Cabrera eloquently explained that the manipulation of the works abstracts, rather than dictates, the narrative of the original cloth. Only upon circling the exhibit and examining the pieces does the viewer discover that the cacti are made from border patrol uniforms, rather than the uniform examining the land for people. For some, the uniform represents protection and security, while to others, the green canvas is a mark of danger and fear. By posing both sides of the argument through the sculptures and stories, Cabrera exposes the Nepantla, and was even able to convince a speculative viewer to participate in a cactus-making workshop at another installation of the show.
It's moments like these, moments that capture the ability of art to transcend gallery walls and effect change on the viewer that illustrate a wider application of Nepantla. If Nepantla represents a space in between, it must also represent a vehicle for unity. Starting with fabric cacti, Cabrera's work serves as a conversation piece to merge a divided state.
More Blog