My Year with Dorothy Shakespear:
Researching and Exploring the Dorothy Shakespear Collection
Author:
Lizz Spangenthal '18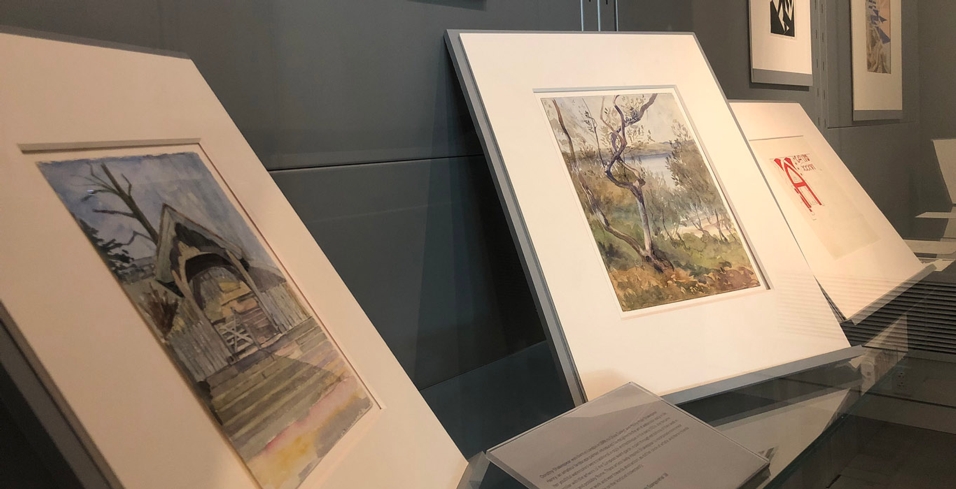 Since starting my position assisting Katherine Alcauskas as a Collections and Exhibitions Assistant three years ago, I've learned so much about the inner workings of a small museum like the Wellin. Completing research for an exhibition, maintaining and updating museum records, and curating a collection of works for a show require such a large amount of time and energy to complete. This past year, I was given the opportunity to experience each of these three facets in detail through my work with the Wellin's Dorothy Shakespear collection.
I started my research by compiling a bibliography of written works, such as exhibition catalogues and pamphlets, that included information about Dorothy Shakespear's background and work as an artist. Through these resources, I developed a complete timeline of her life. I outlined her active participation in the Vorticist movement from 1914-1918, as well as the progression of her artistic style into the 1940s. I also took note of important dates, such as her marriage to Ezra Pound in 1914 and travels abroad to France, Egypt, and Italy throughout the 1900s.
Upon the timeline's completion, I spent the next few months physically checking all 1,200+ works in the collection to ensure their digital records were up to date. This involved noting if each work was double-sided or needed updated storage, and verifying the dates and locations in the museum's database. Then, I used all the research I accumulated to approximate the date each work was created. While a good number were already dated, a majority were not, so I had to use several contextual clues in order to estimate them. This involved comparing sketches to completed works, sorting them individually by theme or style, and using information stored in the museum's database to formulate a best guess. While it was a lengthy process, it allowed me to better understand Dorothy Shakespear's life and the growth of her artistic voice.
As a culmination of a year's worth of research, I've curated a comprehensive case of Shakespear's work. I've chosen a variety of artwork from the most significant periods of her life, such as romantic watercolors from her early years, a sketchbook demonstrating her exploration of Vorticism, and a large watercolor that encapsulates her time spent in near Lago d'Iseo, Italy. My hope is that through all of this research, people will appreciate and and feel encouraged to learn more about Dorothy Shakespear and her impact on the art world.
More Blog