New Acquisitions: 5 Highlights from 2020
Author:
Valerie Kane, Assistant Registrar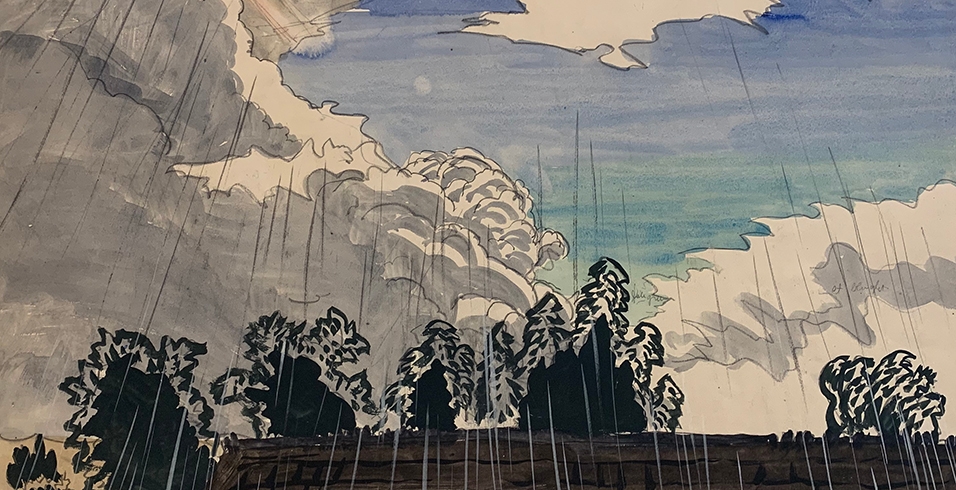 As the Wellin Museum continues to grow its permanent collection, I am thrilled to highlight five objects that were recently acquired in 2020.
Charles Burchfield (American, 1893-1967)
A Dash of Rain From the Sky, 1916
Watercolor and pencil on paper, 13 15/16 × 19 15/16 in. (35.4 × 50.6 cm)
Gift of D. Roger Howlett, Class of 1966
Charles Burchfield was well known for his visionary and inventive watercolor paintings detailing his deep love and respect of nature. Painted on June 17, 1916, A Dash of Rain From the Sky is indicative of his early period which featured romantic stylizations of nature and weather with a decorative quality. It was during this time that the artist was in the habit of meticulously planning and outlining the design of his pictures, and creating color notations to be filled in later. We see Burchfield doing so here in the upper left near the rainbow and the tree line, making several markings indicating color palette. By late summer 1916, Burchfield gradually abandoned this practice, and by 1917 much of his work became unplanned. The painting itself features a blue and white sky seen over top of Weaver's (Lodge) House with a partial rainbow visible on a cloud and was completed near the artist's home in Salem, Ohio.1

Thornton Dial (American, 1928 - 2016)
Untitled, 1998
Watercolor, 22 1/2 × 30 1/2 in. (57.2 × 77.5 cm)
Gift of Ronald and June Shelp
Thornton Dial, a celebrated self-taught folk artist from the rural South, used his work to address a wide range of American history and sociopolitical issues including racism, violence, war, and homelessness. He is known for his incorporation of found or discarded objects, such as scrap metal, wood, rope, chicken wire, and old appliances, into assemblages and sculpture on a large scale. Dial often used the symbol of the tiger in his paintings as a multifaceted representation of the African-American male, possibly the artist himself, and the Civil Rights movement in the United States. Largely illiterate with no formal artistic training, Dial worked as a metalworker for most of his life and created art on the side before dedicating himself to it fully in 1981. He was eventually brought to national attention in 1987.
Priya Kambli (Indian, born 1975)
Me (Flour), 2009
Archival inkjet print, 11 × 14 in. (27.9 × 35.6 cm)
Published by Light Work, Syracuse, NY
Purchase, The Wynant J. Williams '35 Art Collection Fund
Priya Kambli often calls upon the themes of identity and family in her work as a means to connect the culture of her childhood growing up in India to her adult life in the United States. As seen in Me (Flour), the artist takes inspiration from old family photographs and culturally significant artifacts, mainly domestic or humble in nature, as well as old clothing, either from her mother, or when she was a child. This diptych features a portrait of the artist, kneeling on a wooden floor in a white dress decorated in a botanical pattern made of flour. It is visually reminiscent of Indian saris. Beside the kneeling image is a pewter cup holding a cone of white flour. As her face is not visible, the work displays a certain longing and loss of identity between her two cultures, while also exploring the connection between her past and the present through the visual of similar textures, materials, and patterns.

Hock E Aye Vi Edgar Heap of Birds (Cheyenne and Arapaho Nation, born 1954)
No Zone Today, 1990
Pastel drawing on paper, 22 × 30 in. (55.9 × 76.2 cm)
Purchase, William G. Roehrick '34 Art Acquisition and Preservation Fund
No Zone Today is one of two drawings acquired this year by Edgar Heap of Birds, whose work centers around the history of violence against Native American communities by the United States government. The artist uses bold colors drawn with harsh lines to portray themes of colonization and displacement. In particular, the use of the color pink is representative of words the artist associates with white culture, seen here with the depiction of "zone."
The drawing specifically references the forced relocation and oppression of the Cheyenne and Arapaho, two distinct tribes with different histories, languages, traditions, and cultural artifacts, though federally recognized as one. In 1887, under the Dawes Act, the federal government divided tribal lands into individual allotments, granted to those that accepted US citizenship. However, much of the land was not profitable. As a result, it is estimated that over 90 million acres of land was removed from tribal control, achieving the government's goal of forced assimilation of tribes into American society.
Charles T. Scowen (British, 1852 – 1948)
Entrance to the Buddhist Temple, Kandy, Ceylon, ca. 1880s
Albumen print from a collodion negative, 8 1/2 × 10 7/8 in. (21.6 × 27.6 cm)
Gift of Thomas J. Wilson and Jill M. Garling, P2016
British photographer Charles Scowen arrived in Ceylon, modern day Sri Lanka, in 1873 and by 1876, he established his first studio, Scowen & Co. in Kandy. A second would open in Colombo by 1885. The firm soon became one of the leading commercial photographers in Sri Lanka known for producing superior quality photographs for tourism, commerce, and industry, while also capturing the beauty and culture of the island. Known for his botanical photographs, Scowen also produced architectural and landscape studies, photographs of ancient ruins, city and street views, and portraits of native people.

The view seen in this work depicts the main entrance to Dalada Maligawa or the Temple of the Sacred Tooth Relic, one of the most sacred places of Buddhist worship in the world. Constructed during the 17th and 18th centuries, the temple holds the shrine containing the left canine tooth of Buddha, which was first brought to Sri Lanka during the reign of King Kirtisri Meghavanna (301-328).
---
1. Trovato, Joseph S. Charles Burchfield: Catalogue of Paintings in Public and Private Collections. Utica, NY: Munson-Williams-Proctor Institute, 1970.
More Blog