New Acquisitions: 5 Highlights from 2022
Author:
Elizabeth Shannon, Ph.D., Collections Curator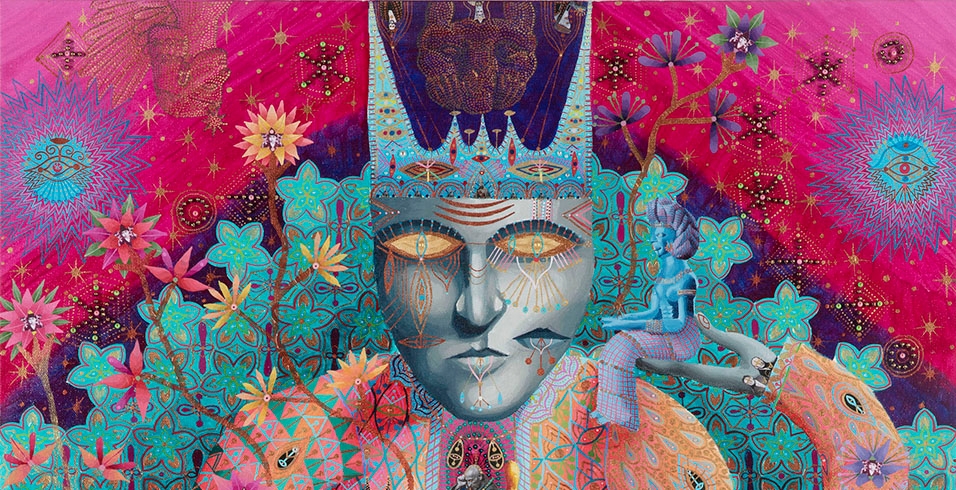 Wednesday, March 29, 2023
Another year, another new acquisitions blog post, another struggle to choose just five objects from the 331 that entered the Wellin Museum of Art's collection during the course of 2022. From purchases, commissions, and gifts of art, there are too many wonderful objects to choose from – but what a great problem to have! Nevertheless, after much deliberation, here are five highlights from the last year.
Celia Vasquez Yui (Shipibo-Conibo People of Peru, born 1960)
Venado, 2021
Coil-built pre-fire slip-painted clay and vegetal resins
Purchase, William G. Roehrick '34 Art Acquisition and Preservation Fund
Currently on display in Archive Hall, Venado was created by the artist and Indigenous rights activist Celia Vasquez Yui, whose exhibition The Council of the Mother Spirits of the Animals, at Salon 94 Gallery in New York City, was one of The New Yorker's top five visual art shows of 2022. The exhibition featured Venado, and its parrot companion Loro (who you can also encounter in Archive Hall), alongside more than 50 other animals made by the artist.

The jaunty and colorful Venado may not look like a deer commonly found in New York state for a number of reasons, not least because it is modeled on an endangered creature found in the Amazon. As a member of the Shipibo-Conibo people of the Peruvian Amazon, Yui's work is rooted in her community's traditions, including their matriarchal structure. Her pieces are produced using raw materials from her environment and ancient ceramic techniques that incorporate ritual preparation. This statement from the Shipibo-Conibo Center always accompanies the work, and emphasizes the living link between Yui's art and the Indigenous ethics that it intends to communicate: "If the order of Shipibo designs can be understood as a visual manifesto of the commitment to the core values of Indigenous ethics, and to protocols of conviviality, reciprocity, and kinship that extends beyond the human to animal, plant, land, and water, it is within these principles that the artistic collaboration between Celia Vasquez Yui and the Shipibo-Conibo Center is rooted. This implies an understanding that the work of art, the work of environmental activism, and the struggle towards Indigenous sovereignty cannot be separated; they must move forward on the same path."
---
Asad Faulwell (American, born 1982)
Artifice, 2022
Acrylic, pins and photo collage on canvas
40 × 30 in. (101.6 × 76.2 cm)
Purchase, William G. Roehrick '34 Art Acquisition and Preservation Fund

Asad Faulwell's intricate, colorful, and highly detailed Artifice brings together Iranian mythological and historical figures, and imbeds them into a complex pattern reminiscent of Persian rugs, Islamic textiles and ceramics. The work features a large, masked king-like central figure who is constructed from "fragments of history," with a masked queen, or priestess, behind. A close viewing reveals Artifice's surface to be studded, not just with pins, but with photographic images of historical leaders and other individuals, alongside painted figures, many of whom are drawn from Iran's ancient history.

Now based in California, Faulwell was born in Idaho to an Iranian family. His relatives left Iran due to the upheavals that afflicted the country during the mid to late twentieth century, referenced in this work through small photographs – inspired by Persian miniatures – of Mohammad Mossadegh, Reza Shah, Mohammad Reza Shah, and Ayatollah Khomeini. The United States' interference in Iranian politics, largely via the CIA, is indicated through images of Dwight Eisenhower, Kermit Roosevelt and the Dulles brothers. In addition, Faulwell highlights the personal impact of global events by including photographs of his great uncle Javad Saeed, the last head of Iran's parliament under the Shah. The artist had family members on both sides of the political divide, some of whom were imprisoned, tortured, and executed, for their loyalties and beliefs. Faulwell's work can be interpreted as a way for the artist to explore the multi-layered complexities of the past, and he has commented, "For me, patterns function as a systematic way in which I can unpack … unresolved histories." Artifice shows a place's history and politics to be intimately entwined with that which is highly personal. Like Faulwell's work, Iran's past resists simplistic interpretation.
---
Berenice Abbott (American, 1898-1991)
Con Edison Building, 1938
Gelatin silver print
12 1/2 × 9 1/4 in. (31.8 × 23.5 cm)
Gift of Martina Hamilton, P1995, GP2022
Berenice Abbott's Con Edison Building entered the Wellin's collection in 2022 thanks to the generosity of Martina Hamilton, whose daughter and granddaughter graduated from Hamilton College. This gorgeous gelatin silver print joins the almost two thousand photographs currently held in the Wellin's collection. It is also one of the works currently on view in Dialogues Across Disciplines, in celebration of the museum's tenth anniversary. Con Edison Building was gifted along with several other works, including a second photograph by Abbott, 4th Avenue Brooklyn Billboards (1936, printed 1979).
Abbott is closely linked to another artist whose work is represented in the Wellin's collection, French photographer Eugène Atget (1856-1927). From 1890, Atget produced photographs of Paris that he sold to artists as reference materials. However, pictures such as Friture (Fry Shop) and Voiture (The Cart) have become celebrated for their atmosphere and virtuosity, as well as for documenting the rapid and extreme modernization of Paris in the late nineteenth century. Atget was Abbott's neighbor in Paris during the 1920s, where she worked as a darkroom assistant for renowned American artist Man Ray (1890-1976). Recognizing Atget's genius, Abbott purchased 8000 prints and 1400 negatives from the French photographer's estate. She helped bring Atget to international prominence by printing and promoting his work. The three Atget photographs in the Wellin's collection were all printed by Abbott.
Atget's fascination with the city fed into Abbott's own photographic practice. Between 1929 and 1938 she recorded the changes that she witnessed in New York City as part of a wide-ranging project that echoed the documentary spirit of Atget's work, as Con Edison Building demonstrates. The project resulted in the celebrated book Changing New York (1939), which features Abbott's images accompanied by a text written by her partner, the art critic Elizabeth McCausland (1899-1965). Abbott's documentary-style recording of New York City is considered one of the major achievements of 20th century American photography.
---
Unrecorded maker (New Guinea)
Carved Lizard, before 1944
Wood and paint
3 3/4 in. × 21 in. × 1 1/2 in. (9.5 × 53.3 × 3.8 cm)
Gift of Ernest H. Williams, Jr., Professor of Biology Emeritus

A work's provenance – or the history of the ownership of an object since it was made – is something that museums examine closely when offered an artwork or other type of object by a prospective donor. Ideally, museums are looking for a full, unbroken list of all the owners of an object, preferably with the date that it passed from one to another. The donor of this object, Ernest H. Williams, Jr., Professor of Biology Emeritus, was able to provide us with unusually detailed proof of the precise date that his father acquired this Carved Lizard, which was eventually passed down to him. Professor Williams' father served in the United States Navy during World War II and he spent part of the war stationed on the northern coast of New Guinea. On September 28, 1944, he wrote a letter home to his wife, in which he detailed a trip that he had taken up the river to a local village, where he had bartered for this wooden lizard and several other objects. Professor Williams also gave the Wellin a Model Outrigger Canoe, which his father acquired at the same time as the lizard. Moreover, he provided us with an image of his father traveling in a full-sized outrigger canoe – perhaps like the vessel in which he rode to barter for the goods that have now found their home at the Wellin.
Both the Model Outrigger Canoe and Carved Lizard appear to be objects that were commonly produced by local people in New Guinea during this time to trade with foreign visitors. We are grateful to Professor Williams for his many years of teaching at Hamilton College, and for tripling our holdings of objects from New Guinea with his generous gift. Both objects can be currently seen on display upstairs in Archive Hall.

---
Donté K. Hayes (American, born 1975)
Elevators, 2022
Ceramic (black clay body) with white slip
12 3/4 in. × 12 in. × 12 in. (32.4 × 30.5 × 30.5 cm)
Creative Commission, production and purchase supported by the Daniel W. Dietrich '64 Fund for Innovation in the Arts

Elevators is one of six artworks created by Donté K. Hayes as part of the Wellin's new Creative Commission program. Following an online studio visit with the museum's curatorial staff, Hayes was invited to explore Hamilton's campus, and meet with faculty and students. During his visit the artist asked to view the Wellin's collection of Native American basketry, and spent a morning looking at baskets, trays, ollas, and miniature hats made of spruce root, willow, and other grasses. Our conversations continued after Hayes returned home, clearly inspired.

Thanks to a Dietrich Inchworm Grant, we were able to commission the artist to create an object for our tenth anniversary exhibition. (Protector, inspired by the Wellin's caretaking of artworks and material culture, greets visitors as they enter Dialogues Across Disciplines.) Hamilton's Art Department generously made their ceramics studios available, and Hayes returned to campus during the summer, working extremely hard through long days, and nights. You can see Hayes talking about the production of these works – and see Elevators before it was fired – in this video. At the end of his visit, we were astonished to be presented with six clay vessels, including Elevators. An extension to the Dietrich Inchworm Grant enabled the Wellin to purchase all these works.

Like all the vessels that Hayes created on campus, Elevators is the result of the inspiration provided by Hamilton College, combined with the artist's personal influences. The surface of Elevators references this basket from the Wellin's collection, produced by an unrecorded Native American maker in the late nineteenth or early twentieth century. The title of Hayes' vessel also seems to link to the basket's pattern, but it is in fact drawn from Outkast's 1996 song Elevators (Me & You). These two distinct influences converge through Hayes' work. As Outkast's Big Boi says, "we moving up in the world like elevators," when given access to knowledge, art, and culture.

More Blog