Playground of My Mind Graphic Memoir Featured in Metropolis Magazine:
New Graphic Memoir, Exhibit Pay Tribute to Playground Design by Paul Clemence
Photo Credit
Illustration (cropped) from "Playground of My Mind," by Julia Jacquette. Courtesy the Wellin Museum of Art / Julia Jacquette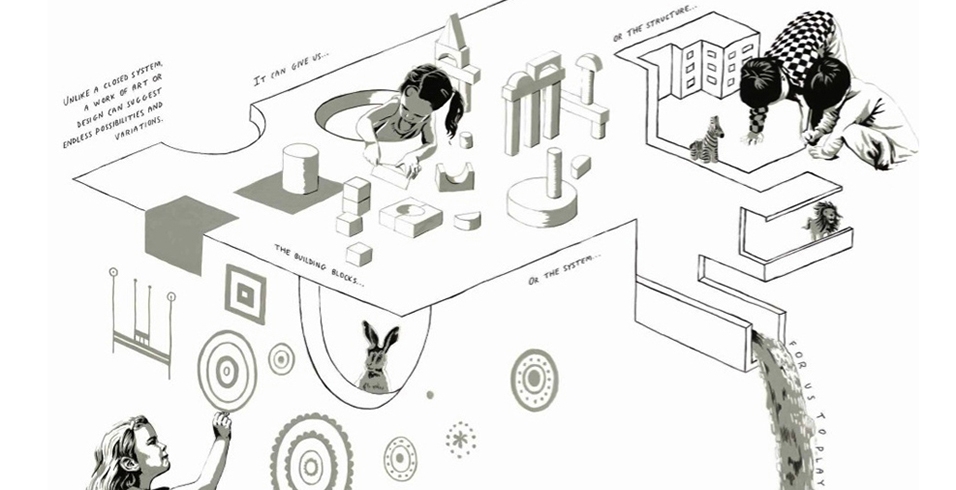 An important part of artist Julia Jacquette's recently opened survey exhibit, "Unrequited and Acts of Play," started as a side project—more of a personal investigation than an artistic endeavor. Complementing the carefully executed paintings is Jacquette's "graphic memoir," which delves deep into her recollections playing in some of New York City's most forward-thinking playgrounds.
Jacquette grew up in Manhattan, in an environment that was very culture conscious (her father is an architect, her mother a librarian with a very Modern sense of style, and her aunt is renowned feminist writer Jane Jacquette): Mies van der Rohe, the Seagram Building, and Marimeko were household names. In an interview, she recalled the impression of her mother's grid-patterned black and white Marimeko coatdress had on her. "That coat really seemed like a piece of architecture to me." Elaborating further, she says: "I now realize that her sense of style was the equivalent of the bold modern architecture my father embraced."
Later on, when Jacquette had become an established artist, she found out that the playground that had delighted her budding imagination was now gone. "Back then, I wasn't cognizant of the design, but I remember feeling many play possibilities, the appeal of the structures, and how they connected somehow to one another. I remember thinking
'I could spend hours here!'" she comments. "Even as a kid it was clear to me that somebody had 'figured out that space.' There was a certain vocabulary, an underlying structure of repetition, but with variations within that repetition—the way there is in all great art and music, but it was done in a very simple and playful way."
Inspired by comic books, Jacquette embarked on a visual investigation of her memories with gouache studies of the playground. Creating the images helped her to understand more clearly the role design played in creating that environment and threw her into a broader investigation of other playgrounds by architects Richard Dattner; M. Paul Friedberg; Ross, Ryan, & Jacquette (her father's firm) in New York City; and Aldo van Eyck in Amsterdam.
Tracy Adler, Johnson-Pote Director of the Wellin Museum of Art, saw that these images told an important part of Jacquette's development as an artist and so decided they should be framed and included in the show. These 60 drawings were also made into a book released in conjunction with the exhibit.
To develop a more interactive experience of the exhibit, associate director Megan Austin and Chris Harrison (in charge of exhibitions preparation) created "PlayScape," an area adjacent to the exhibit where kids from the local community could indulge in their own discovery play within a setting inspired by some of the ideas in the book. Featuring cushioned large scale building blocks and modular forms, oversized Legos, felt boards, drawing tables, and even a digital smart board, the room was an instant hit with children, teenagers, and even adults. As Adler says, "The PlayScape has become a touchstone for relating art to the everyday experience. It enabled us to think more creatively about how museums utilize space as opportunities for engagement."
Julia Jacquette: Unrequited and Acts of Play
February 18 through July 2, 2017
Wellin Museum of Art at Hamilton College
198 College Hill Rd.
Clinton, NY 13323
More Blog