Author:
Bryan Edwards '19
Photo Credit
Installation images courtesy of the Ruth and Elmer Wellin Museum.
Currently on view at the Wellin is Pure Pulp, an exhibition displaying contemporary works in paper created at Dieu Donné papermill. One work, Chalice, is an oversized baseball cap sculpted by New York City-based artist Ian Cooper out of paper.
Although this hat would be described as colorful, sensational, perhaps outlandish, the podium previously used to display the work was anything but. It was white, rectangular, and modest in size. The occasion of the exhibition at the Wellin, however, allowed Cooper the opportunity to conceptually break away from this generic pedestal setting and create a more fitting display. In the place of the podium, he created a grand metal ring that delicately balances the hat in its center.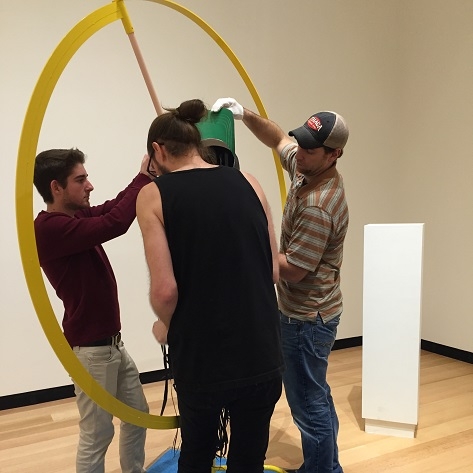 When I arrived to the gallery during installation for my usual work-study shift, I found the ring deconstructed—pieces of bright yellow metal and faded pink wood laid across the floor. Cooper immediately involved me: he tossed a few lines of instruction my way, then a razorblade, hammer and punch, and a large roll of pink foam.
For the next few hours I assisted in transfiguring the assortment of pieces on the floor into the artist's vision of an extraordinary large ring, which like the hat, "Seeks to promote the off-kilter, alienating, awkward, and ultimately uncanny."[1] In working with Cooper I have come to understand that the display can impress those feelings of imposition as equally well as the actual art housed within.
---
[1] Quote from Cooper in Pure Pulp: Contemporary Artists Working in Paper at Dieu Donné exhibition catalogue, page 112.
More Blog