Savoring the Unknown Element in Museum Education
Author:
Marjorie Hurley, Museum Educator and Docent Program Supervisor
Photo Credit
Janelle Rodriguez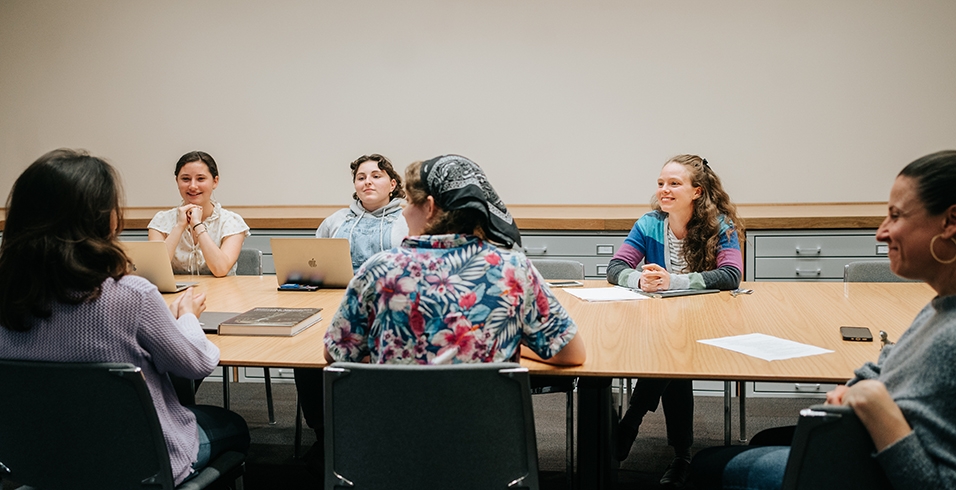 August 30, 2023
There are a few days at the end of the summer when the Wellin's museum education student assistants have concluded their summer jobs and I have some time to reflect on what the summer has meant. Unlike during the academic year, in which days follow the rhythm of a busy class schedule, and in which students come and go every hour or so, summer days are a measurement of time in and of themselves. Each day can be devoted to a single project. For student workers accustomed to the hourly transition between activities, this can be a startling adjustment that eventually becomes a luxurious affordance. For me, as the museum educator at the Wellin, it provides space to consider an entire year's worth of learning, while also digging into the meaning behind museum work.
One privilege of working with our small team of student assistants this summer was the opportunity to form a reading group to study the classic museum education text, Teaching in the Art Museum by Rika Burnham and Elliott Kai-Kee. We delved into the detailed history of museum education established by Kai-Kee and reflected on the occasionally humorous but always sincere ways that museum educators have tried to engage people in looking at art over the past century. For students developing their skills as educators, it was an opportunity to expand their thinking about looking at art with others, and to lay the foundation for developing programs and lesson plans for the upcoming year.
Our discussions led me to realize that the most exciting part of museum work is the balance between the known and unknown variables that, over time, provide a rich environment for learning, both for museum staff and the visitors we work with.
The known variables include the planned events and activities that comprise an academic year's worth of programming. Together, the student assistants and I brainstormed, mapped out, tested, adjusted, and scheduled many of our community events, docent training sessions, and K-12 programs for the coming ten months. We developed lesson plans for K-12 school visits to two exhibitions, and created activities, complete with project samples, for ten Wellin Kids programs. We also meditated on the fall series of Art Yoga programming and began research for WellinWorks interactive gallery that will accompany the exhibition René Treviño: Stab of Guilt.
There are some unknowns, of course. We don't know in advance which student organizations will be excited to work with the museum this year on a special event or project. We cannot foresee what particular wonderings or curiosities will arise in response to our exhibitions. We cannot predict what new interests or concerns the class of 2027 will bring with them to campus that we'll want to respond to. It's impossible for us to know how our K-12 student groups will respond to the activities and program prompts that we have designed for them. Our hope is that they will be inspired to imagine and create, and that they will feel a sense of belonging in the museum.
In the work of a museum educator, there is an element of improvisation, whether it be traveling along an unexpected path of conversation with a student who is connecting with an exhibition in an original and unanticipated way, encountering a newly created artwork that just left an artist's studio, or discovering shared threads between works of art that seem unrelated until they are resting next to each other in adjacent vitrines. The unknowns are what make this work exciting, and are what energize me at the beginning of each new school year.

More Blog