Saying Goodbye: Senior Reflections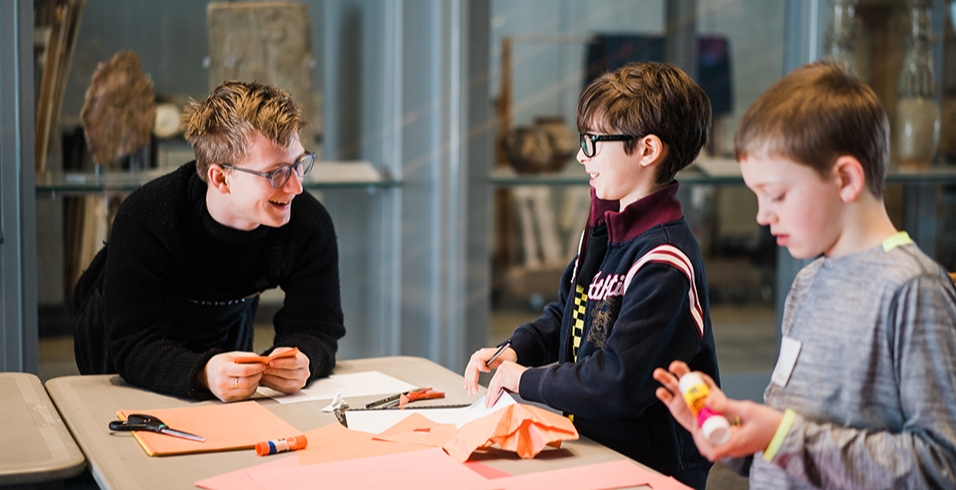 Annelise Vought '19


I remember marching into Amber's office prepped to enthusiastically assert why I was suited to work for the Wellin. I hadn't seen any advertisements for student-held positions; I was just so drawn to the museum space that I wanted to have a legitimate reason to spend more time in it. I also learned that I was not alone in my pursuit of a job at the Wellin. Only through word of mouth, Hamilton students learn about what it's like to work here. The 30 second rundown does not do it justice.
Besides the obvious perks (meeting artists, receiving all this cool swag and Wellin publications, and simply being in the space), docents have the freedom to take on projects and roles that genuinely pique their interest. After working the front desk for a year, I graduated to giving tours and helping out with Wellin Kids. Despite initial nerves, I honed my public speaking skills. Giving tours became fun as opposed to daunting. I wanted to dabble in something else, so Amber tasked me with an educational programming project geared towards middle school students. I chose a breadth of artwork from the Wellin's permanent collection, researched each piece's historical context, and crafted an historical fiction short story and corresponding vocabulary list. This endeavor forced me to synthesize research and transform it into creative writing. The plots ranged from a Mixtec boy's relationship to his grandma's seated funerary urn to an Indian artist's experience painting an elite Rajput woman.
After completing this year long project, I pivoted to Michelle's team and became a Social Media and Marketing Intern. I currently write copy for all social media platforms and curate posts. I design posters for Wellin events and hang them up all around campus. I also brainstorm blog ideas and write some myself. My experience working at the Wellin has been vibrant, action-packed, and fulfilling. In addition to my professional growth, my experience as a member of the Wellin community has been unparalleled anywhere else on Hamilton's campus. Because learning is part the museum's fabric, its talented staff members are constantly developing innovative ways to connect people of all ages with art. From the experimental theater to the WellinWorks Playscape, museum goers and docents alike engage, actively experience, and learn here. I cannot wait to see what the future has in store for this special place. Thank you to everyone at the Wellin; I am off to join the Brand Strategy team of GSW Advertising in New York, but I will be back!
Annie Canning '19
When I first applied to work as a docent at the Wellin Museum of Art, I did not expect to receive such an educational and empowering experience. After one semester at the Wellin, I started working as a Docent +, assisting my former boss Amber Geary to organize educational programs and events, like Wellin Kids and the Evening of Art for Educators. By inviting me to work with her, Amber introduced me to museum education: the perfect department for an art history major and education minor like myself. This provided me with valuable and relevant work experience that positioned me to immediately pursue my career in museum education.
The Wellin Museum not only introduced me to museum education but also provided me with opportunities to grow as an educator and museum professional. While interning at the Guggenheim Museum, I learned about new educational practices and approaches to arts education that I found to be very effective. After returning to the Wellin Museum the fall of my senior year, Amber, Tracy Adler, and the rest of the Wellin staff supported me in launching a new program for middle school students that would incorporate the innovative teaching strategies I had observed. By supporting me in my efforts to start Middle School Makers, the Wellin provided me with opportunities to continue learning and contribute to the museum's ever increasing success. Thanks to the Wellin, I was able to learn more about arts education and to practice the work that I wish to pursue after graduation. I am extremely grateful for the Wellin Museum and the continuous support they have offered me and every other student docent.
Jie Ying Mei '19
My three years working at the Wellin have been enriching because I was guided by the Collections Curator, Katherine Alcauskas. Through her instructions, I was able to learn about the various duties assigned to me as a Collections and Exhibitions Student Assistant.
One of my most exciting experiences has been curating a case with my fellow colleague Ghada Emish '19. As an aspiring curator, this experience is a stepping stone for me, allowing me to gain skills within the field. In the beginning of the year, I continued cataloguing the Dorothy Shakespear sketches that Lizz Spangenthal '18 started last year, and Ghada began to catalogue the Alinari photographs. This semester, Ghada and I began the process of researching the artists, selecting works, and writing labels. Throughout this process, I learned the importance of vigorous collaboration required to create and finalize a compelling, cohesive theme that synthesizes our artists' works.
In a couple of months, I will participate in an internship at a historical society in my hometown, completing tasks similar to my work at the Wellin. For example, I plan to conduct research for upcoming exhibitions and catalogue additional works. My experience at the Wellin has broadened my understanding of diverse areas of study, further developing my liberal arts education. I am devoted to utilizing my expertise, and my work has inspired me to push beyond the boundaries of my existing knowledge.
Louis Dzialo '19
When I entered Hamilton College, I knew that I wanted to work in museums as a career. Still, I was too scared to apply for a job at the Wellin as a freshman. As a sophomore, I finally worked up the courage and asked Amber for a job staffing the greeter desk. Just as Tracy tells her story about her first job selling buttons at the Met, my first real museum job was clicking people in at the Wellin.
As time went on, I gained more courage thanks to the Wellin. I asked Amber to put me on specialized projects and I started leading tours. I've spent the past 3 years working on the American Artists Project with local school-teachers and giving tours/interacting with students from all over CNY. Thanks to the opportunities the Wellin gave me, I feel more confident about public speaking and writing than I ever have. I feel like now, I can do VTS or lead a great tour with my eyes closed.
This last year at the Wellin has been a great one. We are diversifying and expanding the American Artists Project to further represent marginalized themes, groups, and artists. I've had the pleasure of working with prominent and up-and-coming artists including Jeffrey Gibson and Yashua Klos in person and on the phone. I've also begun to help out in educational workshops like Wellin Kids and Middle School Makers (shout out to Annie Canning!).
I love and will miss the Wellin. It has informed my career path immensely. This summer, I'll be working as an Education Intern at the Norton Museum in W. Palm Beach, FL! I'll be thinking of and using all of the great skills the Wellin gave me!
Marisabel Rey '19
I started working at the Wellin my sophomore year. In my three years there, I had the opportunity to lead tour for a variety of classes and participate in the programming organized by the museum, from Wellin Kids to conferences to alumni events. During my time at Wellin I not only gained confidence public speaking, but also saw first-hand the impact the museum has on the Hamilton community. Seeing students engage with the exhibitions, in their free time and as part of a class, had been one of the most rewarding experiences I have had. Besides my experience on the job, I have also developed life-long friendships with the other docents and found mentors in the Wellin staff. I will carry all the things I have learned at the Wellin to my life post-graduation, where I hope to continue onto a career in museum development.
Reed Johnson '19
I rather stumbled into my job at the Wellin at the end of my sophomore year, having been convinced to join by a friend of mine working there to get a job while I was on campus for the summer. Up to that point my experience in the museum world, beyond the occasional visit to one with my family, had been an Art History proseminar my freshman spring. I was admittedly hesitant to believe that they would want to hire someone so green around the ears. I remember walking into my interview with Amber thinking that at best I would be working the desk, and came out in ten minutes with a transcribing job for her research project. The Wellin has been absolutely the best job I've had in my life, and that's because it's a job that is willing to throw you into an experience and know that you'll learn from it. It been challenging at times but never regrettable. The staff and security welcomed me in and treated me with a kindness that I would have never expected from a job environment. I will dearly miss them and cherish the opportunity I had to work there.
More Blog