Author:
Fiona Bristol '25
Photo Credit
Janelle Rodriguez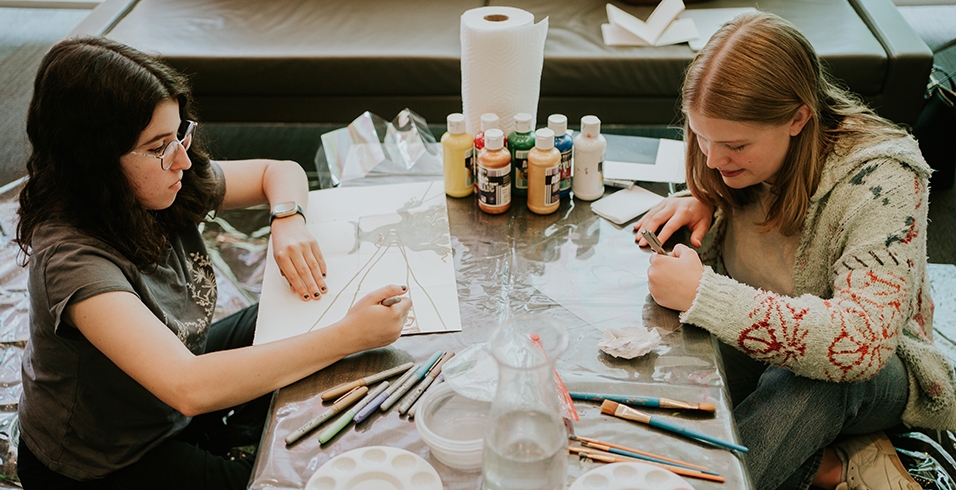 If you ask anyone who has experienced it, summer at Hamilton is usually marked by a few key words: quiet, peaceful, slow. As final grades are returned, students and faculty scatter, heading home or going away, preparing for a summer of rest, work, or a mixture of both. Residence halls and academic buildings empty, as a calm, easy quality descends over the campus. Some people might tell you that Hamilton is at its best and most beautiful in the summer.
As a student, I usually associate Hamilton with a packed schedule, a loaded to-do list, and the occasional mad dash across campus for a class. But over the summer, all of this changes. I have found that those people were right––summer at Hamilton is quiet, peaceful, and slow – in all the best ways. With a tenth of the student population present, the summer marks a transformation in nearly all areas of campus. For myself and the other student assistants, this means spending most of our time at the Wellin.
The museum officially closed for the summer after alumni weekend in early June. We've seen a few visitors since then––the summer philosophy program stopped by for an afternoon of inquiry into the value of beauty, and the newest HEOP class visited for career development and behind the scenes art exploration. But for the majority of the summer, focus shifts to preparation for future visitors and shows.
This summer, the usual student team of over thirty docents has become a team of six, working in collections, education, and exhibitions. We have conducted extensive research into collection items, cataloged mysterious, unidentified photographs, unearthed new details about objects, and planned multiple programs for the campus and wider community. These projects involve days full of discussion and collaboration, with one another and with other staff members. My days are often spent brainstorming with Eliza Behrke '25, fellow education assistant, as we plan community artmaking events. We often consult with Taylor Scatliffe '25, exhibition assistant, as part of her work includes compiling research and resources about upcoming shows.
A museum without visitors is similar to Hamilton in the summer; in some ways it is quiet, peaceful, and slow. But in other ways, it is busy, hectic, and fleeting. With a new show opening in a matter of weeks, there is a lot to do. Most of my summer here has been spent looking forward, towards the future––planning for the fall show, the spring show, and even thinking about the show after that. While summer at the Wellin is a time to look towards the future, the museum's "off season" also offers time to reflect. Along with Marjorie Hurley, Museum Educator and Docent Program Supervisor, we have had a chance to reflect on the training that new docents experience. We have taken time to look back at past education programs and exhibition spaces. These reflective conversations are important in considering and planning for the museum's future.
In less than a month, the Wellin will open its doors and welcome the community back in. As I sit here, taking in the stillness of a museum without visitors, I almost cannot imagine it full again. But very soon, the sounds of an elementary school program will echo in Archive Hall and the conversations of a Hamilton class will fill the gallery. This has been a wonderful and rewarding summer, and I look forward to sharing what we've been working on.

More Blog