Tracy Adler Reflects on the Past 10 Years
Author:
Tracy L. Adler, Johnson-Pote Director
Photo Credit
Janelle Rodriguez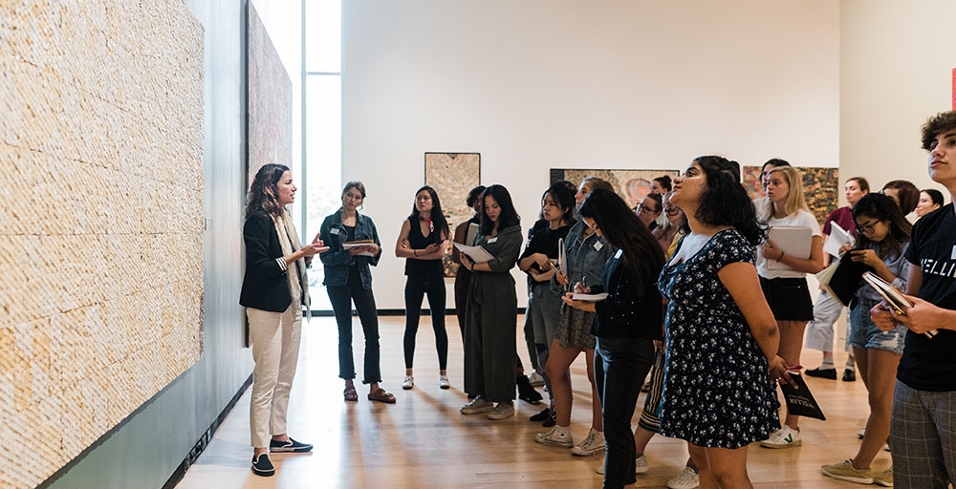 Wednesday, October 26, 2022
As a museum director, I am often looking ahead—to future exhibitions, acquisitions, programs, projects, and publications—and the tenth anniversary of the Wellin Museum this year afforded me a rare opportunity for reflection. Looking back has been a most rewarding journey.
It's hard to believe that when I first visited the museum while it was under construction on a snowy day in January of 2012—when there were no walls, no stairs, just the beginnings of a structure and a long-held desire to build a museum at Hamilton—that I would find myself 10 years later looking back on the dozens of shows, tens of thousands of visitors, hundreds of classes and programs, and numerous publications that we've produced. It's inspiring to think of the artists, curators, students, faculty, alumni, and my amazing staff, among other core collaborators and community members, who have made the Wellin what it is today.
The Wellin is a success because Hamilton has created an environment for it to thrive. The administration, alumni, and trustees have supported us so we can be a space of innovation—a teaching museum that supports learning in new ways and explores uncharted creative territories. We have the opportunity to try new things, collaborate deeply, and think innovatively about what a museum brings to a community. At a time when museums are continuing to change, we at the Wellin strive to stay nimble, relevant, and responsive to that evolution. When I came to Hamilton, I had a vision for what the teaching museum of the future could be, and here we are, 10 years later. I have learned so much along the way, and my hope and inspiration for the museum's potential continues to grow.
In advance of the anniversary, I began to think about how we can best mark this moment and how that project can encapsulate what the Wellin has become. This milestone prompted me and the Wellin team to organize the exhibition Dialogues Across Disciplines which I curated with my colleague Alexander Jarman, Assistant Curator of Exhibitions and Academic Outreach, in collaboration with Marjorie Hurley, Educator and Docent Program Supervisor, and Liz Shannon, Collections Curator, highlighting a selection of artworks acquired by the museum since its founding in 2012. Featuring art and artifacts that have entered the collection through gifts and purchases over the last decade, the exhibition emphasizes the museum's ongoing commitment to building a globally representative teaching collection that is reflective of the academic and cultural richness of Hamilton College. Now totaling over 7,000 objects, the Wellin's collection represents a broad range of cultures, historical periods, artistic practices, and movements.
To arrive at the selection of 146 objects on view, special consideration was given to works that have been the focus of Hamilton classes and community events and those that address an array of themes and speak to a variety of disciplines. Works in the exhibition range from ancient Roman glass, nineteenth-century photography, and Song dynasty ceramics to contemporary art in every medium. The exhibition also features two artworks created through our newly launched Creative Commission series. The works by Akea Brionne and Donté K. Hayes on view resulted from research and discussions between the artists and Hamilton staff and faculty, emphasizing the role of collaboration between the Wellin, artists, and community.
The Wellin's teaching museum mission prompts us to activate its holdings to engage the curiosity of students, faculty, staff, and the community, and to advance interdisciplinary learning by introducing new ideas and perspectives to classroom conversations. The works included in Dialogues Across Disciplines mirror Hamilton's liberal arts mission more broadly by highlighting a plurality of voices and viewpoints.
To foreground this, members of the Hamilton community have been invited to lend their personal and expert perspectives by writing texts to accompany the artworks on display. This collaboration both deepens our understanding of individual works and underscores how the active participation of faculty, students, and staff enriches the collection and brings the artworks to life. Some label contributions include Tina Hall, Professor of Literature and Creative Writing, who wrote a poem in response to Hock E Aye Vi Edgar Heap of Birds's pastel word drawings Taste and Spit and No Zone Today.
Referencing a photo by Gerald Cyrus depicting the hands of famed jazz pianist Mulgrew Miller, Monk Rowe, the Joe Williams Director of the Fillius Jazz Archive at Hamilton, asks, "Was Mulgrew Miller playing solo or with a trio? In a smoky nightclub or a concert hall?" among other insights and queries. Similarly, Adam Lark, Assistant Professor of Instruction in Physics who oversees Hamilton's Peters Astronomical Observatory, muses of Howardina Pindell's print Constellations, "When looking at the disorderly mess of stars in this piece, I find myself wondering what the stars mean to the artist."
Students, too, share their perspectives. Olivia Davis, Class of 2023, wrote of Renée Stout's sculpture The House of Chance and Mischief, "Through storytelling and engagement, this sculpture allows viewers to contribute a piece of themselves, further bringing the piece to life." Juasline Plasencia, Class of 2023, contributed a text to accompany Firelei Báez's mixed-media work Amidst the future and present there is a memory table, in which Juasline notes, "By creating a memory table that exists within both the present and future, Báez highlights the physical and spiritual roles that tables play—not only in her life but also in the lives of those who have come before and may come in the future."

I also share personal and professional perspectives on the works on view: Jeffrey Gibson, Julia Jacquette, and Elias Sime, among them. We made every effort to include significant works by artists who have had solo shows at the Wellin and seeing their work on view again is like reuniting with old friends and remembering the moments we've shared. (For a deeper dive, watch the "Artists Reflect" film, a documentary revisiting artists who have had solo shows at the Wellin by filmmaker Brett Novak.) As the founding director of the Wellin, I am struck by how the works on view have special meaning and mark moments throughout the last 10 years when they were acquired.
Artworks are not static. Rather they are portals that evoke a range of emotions, histories, topologies, memories, and sentiments. This show is a trace of the Wellin Museum's trajectory over the last 10 years but it is also the story of the Hamilton community—of the faculty, staff, students, alumni, and the broader community who have supported us along the way and made the Wellin what it is today. I look forward to continuing to build on that tradition over the years to come. This is just the start.

More Blog