Unpacking the Past:
An Introduction to the Wellin's Recently Acquired Collection of Antiquities
Photo Credit
Photography by John Bentham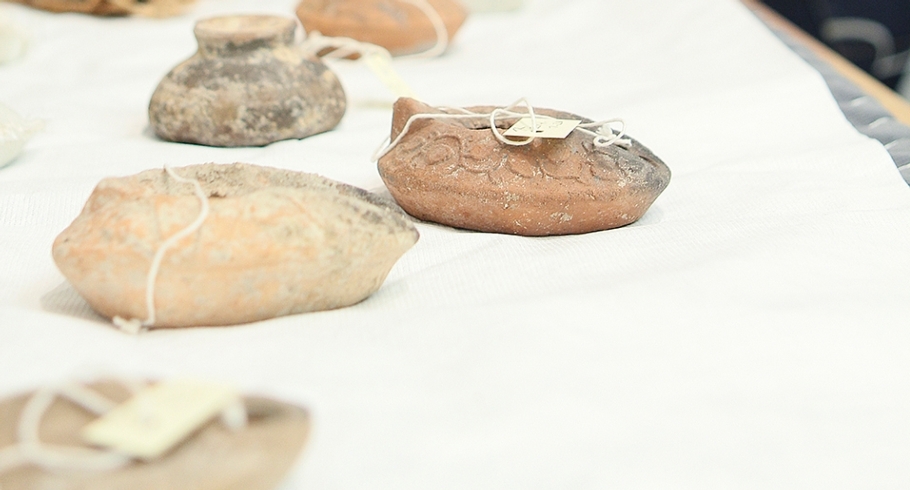 The Wellin Museum recently received a gift of sixty-six antiquities from the family of Isaac Hollister Hall, Hamilton College Class of 1859. I had the opportunity to process and catalog the objects, which arrived packaged in old cigar boxes and wrapped in newspapers from the 1890s. The objects ranged from Ancient Roman glass perfume bottles and Greek oil lamps to a Coptic Egyptian flask and a Roman bronze mirror. As a Classics and Art History double major, this project was a dream come true, and I was eager to shed light on the objects' pasts. Where were these antiquities from? Who used them and for what purposes? Who discovered them? And how did they end up in Clinton, New York?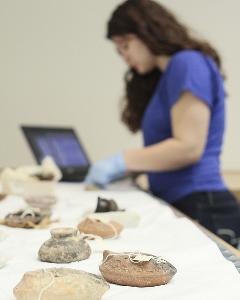 Before I could answer these questions, I needed to begin by cataloguing the antiquities. While it was a bit nerve-wracking to work so closely with objects up to a thousand-years old, it was a unique opportunity to gain such an intimacy with them. Armed with latex gloves, a magnifying glass and a tape measure, I delicately measured each object and examined them for any existing damage. I recorded all of this information and provided descriptive titles for each object, in addition to taking preliminary photographs.
After I completed the more technical components of processing the new acquisitions, I sought to answer my initial questions about their history and their long journey across the Atlantic. With only a few clues about the origin of the objects, I dug into the college's archives and discovered a trove of books, journals, and letters from the 1800s that Isaac Hall, the Hamilton alumnus and original owner of the objects, had saved and gifted to the college. As I sifted through these documents, a clearer picture of the history of these objects came into focus, and I began to piece together the amazing story that these antiquities had to tell.
This post is part of a series about the origins and history of the Wellin's recently acquired collection of Cypriot antiquities.
More Blog