Unpacking the Past: Highlights from the Collection:
Cypriot Black-on-Red Ware Amphora
Photo Credit
Images courtesy of the Ruth and Elmer Wellin Museum.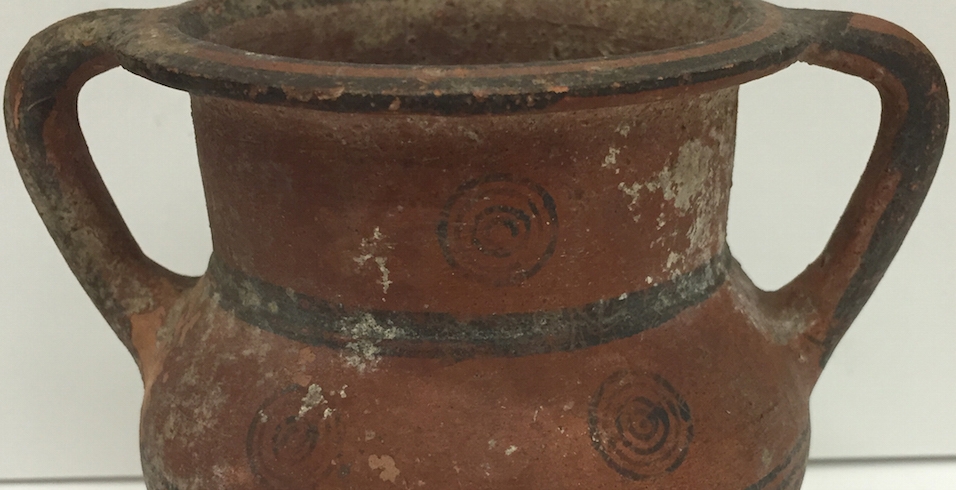 The collection of Cypriot objects housed at the Wellin is characterized by its great range of objects, which reflects the breadth of Cyprus' archaeological record. This diversity is due to the various occupations of Cyprus by outsiders looking to take advantage of the island's location. As highlighted in my previous post, the collection includes objects dating as far back as the twelfth century B.C., which suggest Mycenaean influence during the Bronze Age. Following the Mycenaean settlement on Cyprus, the island came under Assyrian rule. The conquest occurred during the island's Cypro-Archaic period, which is characterized by flourishing cultural activity, monumental architecture, and city-kingdoms which were under Assyrian dominion.
In the collection of antiquities recently gifted to Hamilton, there is a small amphora, or storage vessel, dating from this period of Assyrian rule. The amphora was made of clay on a potter's wheel and is covered by a red slip. It is decorated with black bands across the base of the neck and the body and with black targets composed of concentric circles along the neck and shoulder. The amphora was likely produced sometime between 750 and 600 B.C. Because of its small height of nine centimeters, it probably had a cosmetic use and held perfume or scented oil. This geometric pattern of bands and targets is very common in this period and appears on many different vessels of varying shapes and sizes.
This post is the seventh part of a series about the origins and history of the Wellin's recently acquired collection of Cypriot antiquities. For part one, visit https://www.hamilton.edu/wellin/wellinformed/unpacking-the-past
More Blog