Vanessa German: Citizen Artist, Standing in the Gap Between Art and Life
Photo Credit
Heather Ainsworth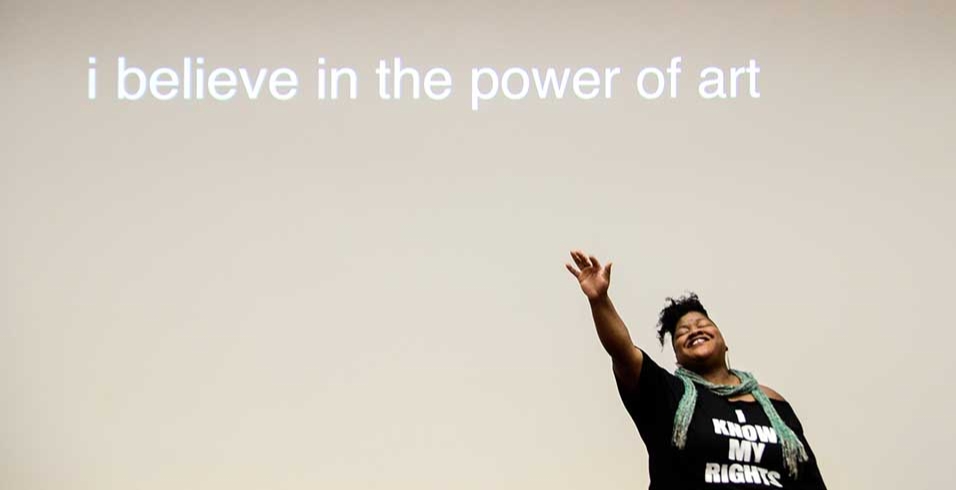 On Saturday, September 9th, the Wellin Museum of Art hosted an afternoon reception for the opening of its fall 2017 show. Innovative Approaches, Honored Traditions celebrates the fifth anniversary of the museum's opening, and displays 140 highlights from the Wellin's collection of nearly 6,000 objects. Curated by Collections and Exhibitions Specialist Katherine D. Alcauskas, Innovative Approaches, Honored Traditions frames the works in the exhibition through the lens of six of the college's academic goals, placing works of different styles, periods, and mediums in conversation with one another.
To kick off the event, Vanessa German, a contemporary artist with work in the exhibition, was invited to speak with Alcauskas. Last year, the Wellin acquired a piece by German titled i will never smile again, 2016. The work is striking at first glance. It is a dense human tangle of shells, prosthetic legs, and woolen blobs. Keys and cell phones, coated in blue paint, cascade down the figure's shoulders and arms. The piece appears to be a mixture of raw materials and without the artist, the intricate story of this piece is hard to comprehend. Fortunately, for the interested museum-goer, German was present to speak at length on this piece and her wider artistic process.
German is a self-styled "citizen-artist" with a mesmerizing life story that finds its way into all aspects of her life and work. After beginning her talk with a piece of spoken word poetry, German introduced the audience to the concept of the "citizen artist," or someone who stands in the gap between life and art, and uses their artistic tools to promote a message of love through "creative, understanding, transformative, and redemptive good-will."
This love is one that German worked hard to find in her own life and impart in her artistic work. As a black, queer woman without a college education, she spent much of her early-adulthood feeling hopeless and suicidal. She described a moment at which she thought about committing suicide by sitting down and willing herself to die. "I've heard those stories" German said. "I knew a young man in good health who sat down and willed himself to death… I was that miserable."
These constant feelings of depression led German to create her first power figure, a smaller iteration of the piece in the Wellin's collection. German packed this female totem full of found materials as a means to expel her stress and anxiety. Soon after, German began creating larger scale figures out of found objects in addition to shooting photographs of women in costume on streets in her hometown of Pittsburgh. The children in her often-dangerous neighborhood saw these photographs and were taken aback by the "weird" woman on their block. "Kids would say 'Miss Vanessa lives with another woman. And it's not her auntie and it's not her sister.'" Eventually they approached her with questions about the elaborate costumes, the splendid colors of her sculptures, and the power of making art. This community in need led German to establish ARThouse, a place for children in her neighborhood to learn about and create art.
By unifying the educational aspect of ARThouse with the activist mission in much of her art, German continues her role as "citizen artist." The projects that she facilitates with children at ARThouse combine art with activism and show that Vanessa is as a contemporary artist whose work exemplifies the way in which she lives her life.
More Blog