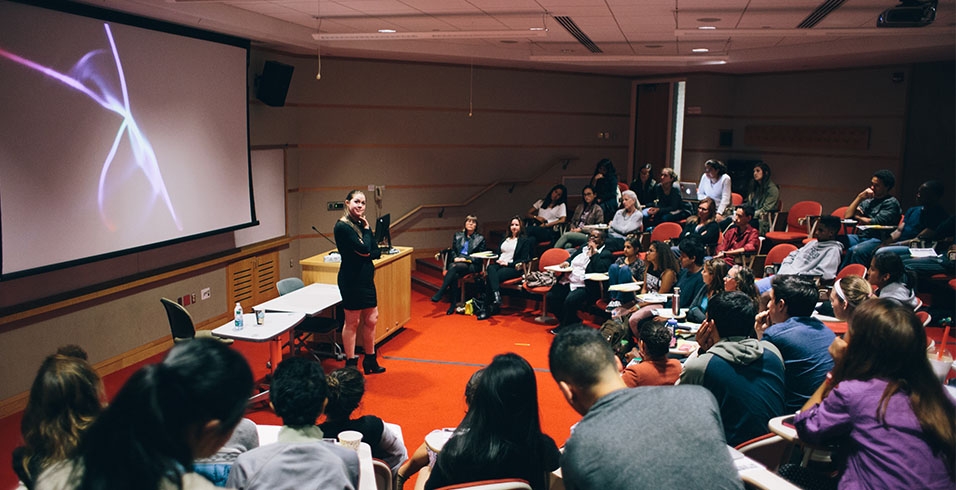 Written by Daiyan Hossain '18
Days-Massolo Center Student Ambassador
Humanitarian and social entrepreneur Veronika Scott from Detroit visited Hamilton Monday, September 21st 2015 to talk about her non-profit NGO The Empowerment Plan. Her organization has gained recognition for creating employment opportunities for the homeless population, integrating them in the process of making a heat-trapping jacket that can transform into a self-heating, waterproof sleeping bag for the homeless community.

Scott began her speech by recounting her childhood with parents who were addicts, moving from home to home and living off of distant relatives who did not't much care for her and her family. She was raised with the belief that she and her siblings would never amount to anything. However, Scott changed this negativity into motivation. She worked hard and attended the College for Creative Studies in Detroit where she studied product design. She took a class that would often require unorthodox projects such as making a "sexy toaster." However, little did Scott know that a class assignment to design something to fill a social need would become her opportunity to prove everyone who ever doubted her wrong.

Scott and a group of classmates visited a homeless shelter, deemed one of the worst shelters in Detroit, to figure out project ideas that could help the homeless community. After a rather nerve-wracking visit, Scott was the only one who returned. She was unshaken, however, and the motivation that carried her this far was unaltered. She returned, and soon became a frequent visitor. After making about seven prototypes of the coat, the first of which was twenty pounds heavy, she finished the first of many that would launch the start of her organization.

Scott soon realized that what the homeless community needed was not a coat, but a way to rebuild their lives and sustain their independence. "The coat," she claimed, "was a bandage." She was compelled to dig deeper, and decided to turn the coat into an opportunity - a way for the community to seek employment by helping create the coat for more people.

"My team is strong and powerful," said Scott, who spoke about how the homeless community should not be represented as pitiful, weak, and lazy but capable, wise, and worthy of respect and independence and most importantly, life. Her inspirational speech taught her audience that, to create change, one must not be turned away by fear. More importantly, Scott spoke on the importance of listening to those you wish to help, and accepting that you do not know nearly as much as they do. Instead of coming into a community with a plan and idea of how to help, one must, like Scott, come in with a listening ear and ask, "What do you need?"
Next Article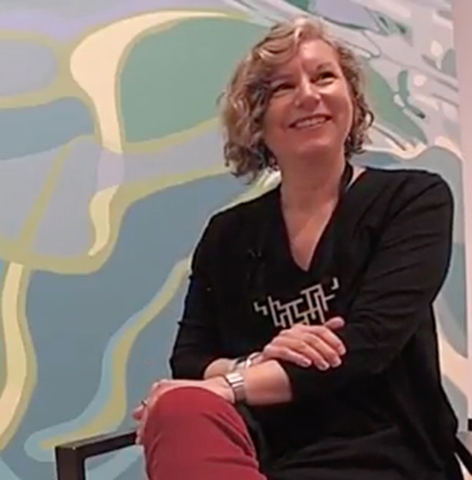 Facebook Live with Julia Jacquette
View the Facebook Live conversation between Tracy L. Adler, Johnson-Pote Director of the Wellin Museum of Art, and artist Julia Jacquette discussing the exhibition Julia Jacquette: Unrequited and Acts of Play.
More Blog