WellinWorks for a Reenactment of Plato's Symposium
Author:
Mary Bei Prince '20
Photo Credit
Janelle Rodriguez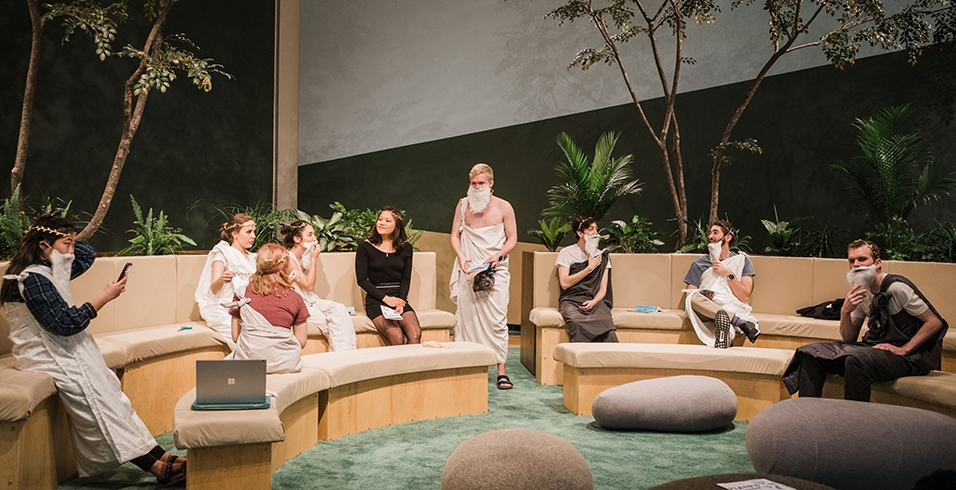 On Wednesday March 4th, ten students in Heidi Ravven's Philosophy as a Spiritual Quest class assembled in the Wellin's luscious lyceum for a lively reenactment of Plato's Symposium. Festooned in their everyday bedsheets, golden laurel crowns, and full, snowy beards, the company performed the classic collection of speeches, with red solo cups in hand. The togas hardly seemed out of place in the spring 2020 WellinWorks space.
An auxiliary room within the Dietrich Exhibition Gallery, WellinWorks allows students, classes, and visitors to further explore the spring exhibition. To complement SUM Artists: Visual Diagrams and Systems-Based Explorations, curators Matthew Deleget and Rossana Martinez proposed a lyceum-themed WellinWorks space in the hopes of inspiring a dynamic, inquisitive learning environment like that which arose in Ancient Greece. The curators' idea was materialized by Chris Harrison, the Wellin's Building Manager and Museum Preparator, who designed a comfortable gathering space: green and white walls enclose sections of intermingling real and artificial plants that surround beige amphitheater-esque seating that rests on a circular, green carpet. This environment became the perfect setting to stage a classical Grecian drinking party.
In ancient Greece, banquets often concluded with a symposium: a time for leisurely libation accompanied by music, dancing, recitals, or conversation. The monologues in Plato's Symposium are set within this context, however the philosophical text focuses on different interpretations of love. Ravven's students reimaged their text, turning the speeches into a theatrical production divided into six scenes, which was interrupted by a short intermission halfway through. Making use of the space, students entered and exited the semicircular stage, lounged on and against cushions, and 'drunkenly' pranced around. Reenacting the Symposium in the lyceum had a transformative effect as it not only allowed students to lean into the theatrical interpretation of their characters, but it reinforced the text's thematic elements that related to issues addressed in SUM Artists: gender, equality, identity, and power.
More Blog