What on Earth is a docent?
Author:
Amber Geary, Museum Educator and Docent Program Supervisor
Photo Credit
Heather Ainsworth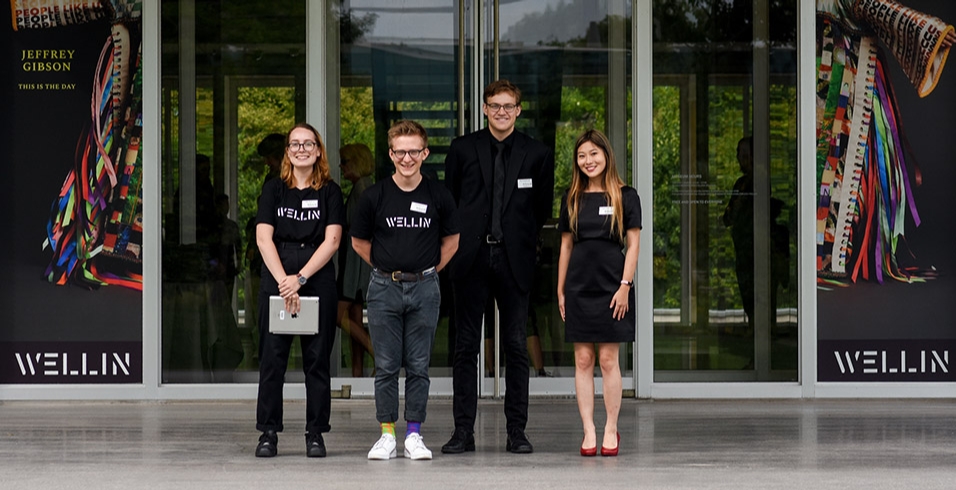 When people ask me what a docent is, I smile. Before joining the Wellin team more than five
years ago, I didn't know what that word meant. "Docent" is a not a word that exists in the
world outside of the museum. It's a role that is often known by other monikers.

"Is that like a tour guide?"

Yes, but that's only part of it. "Tour guide" doesn't really cover all of the facets that this person
must embody to properly orient, educate, and entertain a museum guest. To fully understand
the nuanced functionality of a docent, especially at the Wellin, one has to realize three things:

Most people who enter the doors of a museum are now used to obtaining information
from a device, not a human. This fact creates an interesting dichotomy of goals for the
docent. You want to be as informative as possible, yet retain the attention of the viewer
and whet their appetites for MORE information. Throw in the goals of a docent at an
academic museum whose audience is primarily from the iGeneration, and this job
becomes even more precarious. At the Wellin, it helps that our docents are Hamilton
College students, so they are usually speaking to their own generation. This however,
does not deter from the importance of engaging each visitor at their own level.

One size does not fit all for museum experiences. A docent needs to recognize when a
guest desires more information versus when they just want to browse. They need to be
cognizant of the needs of a young child versus the needs of an elderly guest. They need
to be able to communicate on the level of a professor versus the level of a class of third
graders. A docent needs to always be reading the room, always acclimating their words
to suit the crowd's needs and reactions at a moment's notice. This takes immense
practice, acute awareness, stellar presentation skills, and an in-depth knowledge of the
content being presented.

Docents might love art, but not all docents are artists. At the Wellin Museum, our crew
of more than forty student docents have an academic range of interests that span from
anthropology to neuroscience and world economics to yes, art and art history. These
cerebral endeavors mix with countless personal interests, personality traits, and
backstories. This means that no two tours are ever the same. To a Docent Program
Supervisor, this is simultaneously the stuff dreams are made of and borderline scary.
Docents need to train, read, practice, and revise. Each person brings a different flavor to
this job; different strengths and challenges makes for an exciting environment.
The fact of the matter is, none of us can climb into the heads of an artist to know exactly what
they thought the moment they created something. Even if we hear an artist SAY what they
were thinking, we will still imbibe our own meaning into the retelling of their story. With that in
mind, I offer that docents are not simply tour guides; docents are storytellers.
One can learn projection techniques, study content, and practice crowd management, but at
the end of the day, what makes a great museum experience with a docent is their ability to
engage the viewer, to create buy-in, and to stoke curiosity. A good storyteller keeps people
hanging on and wanting more. At the Wellin, our student docents take our viewers on a journey
through the lens of their own understanding.

So yes, a docent technically guides tours. But ideally, a docent is more a guide to an individual's
personal journey into a relationship of curiosity and excitement for art. That is, at least, our goal.
More Blog