Monday, November 1
The woman behind every Great Name
By Redwan Saleh '13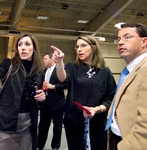 At 2:19 p.m., Lisa Magnarelli '96 calmly gathers Hi-Liters, Sharpies, walkie-talkies and a few lists before heading to the Field House. There, hundreds of students, reporters, guests and protesters are already assembling, eagerly anticipating the arrival of the well-known political figure who will be speaking at 8 p.m.
Dr. Condoleezza Rice has been invited to the Hill as part of the Sacerdote Great Names Series. Magnarelli, now associate dean of students for student engagement and leadership, first took part in the Great Names Series as a volunteer during her senior year. She has been directing preparations for the series since 2003 and has established a well-tuned routine. "I never re-create the wheel," Magnarelli says, referring to the binders carefully arranged on her desk.
Last-minute changes and a barrage of calls about staging errors keep Magnarelli in constant motion. Because of cell-phone service disruptions in the Field House, Magnarelli scurries in and out each time her phone rings. Obstacles are smoothly overcome, but new ones keep surfacing: By 4:30 p.m., miscommunications with the setup crew have led to new problems. The clock ticks away as Magnarelli improvises new plans for the arrangement of the reception hall and the green room for the speaker. She checks safety procedures, chooses the right lighting during a technical rehearsal, and even helps with setup. Throughout, her humor and sense of calm remain intact. At 7:35 p.m. she jokes, "There's no turning back now."
As Dr. Rice speaks about her childhood, education and political career, Magnarelli stands along one side of the stage. The evening is a resounding success. At 9:54 p.m., Magnarelli sits down for the first time since 2:19. She checks off the last boxes on her checklist for the day — and smiles with relief.