Saturday, December 11
Tutors who challenge a 'can't do it' mentality
By Ian Thresher '12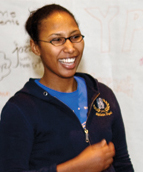 The Young People's Project hosts its semi-annual Math Bash for children from Utica's Donovan Middle School today, but the Bash is only a small part of the story — an end-of-semester "hurrah," as Leide Cabral '11 calls it. Modeled on the renowned Algebra Project founded by Bob Moses '56, the YPP helps Donovan students develop math literacy by sending four or five Hamilton tutors to the school every schoolday for workshops; more than 50 Donovan students are involved in the program.
Hector Acevedo '08 and Cabral began Hamilton's chapter of the national YPP in 2007 — it was part of Acevedo's senior project — and the group has received wide attention for its efforts. "We work very hard to change the 'can't do it' mentality, and we really try and show the kids that they can do anything if they work at it," Cabral says. It's a long-term commitment for her; after graduation, she hopes to go to work in the YPP office in the Greater Boston area.
But today is about fun, the culmination of a semester's worth of work, and YPP members make sure that things go smoothly and their charges have a great time: goodie bags, snacks, math-based games and, as the finale, a competition based on prime numbers that challenges the Donovan students to apply everything they have learned over the semester.
"Everybody looks forward to the Math Bash," Cabral says. "It comes at kind of a busy time, but there is nothing more rewarding than seeing the kids you have worked with all semester apply what they have learned."