Design Evolution:
The design minds behind the catalogue for Jeffrey Gibson: This Is the Day
Author:
Tim Laun and Natalie Wedeking, Graphic Designers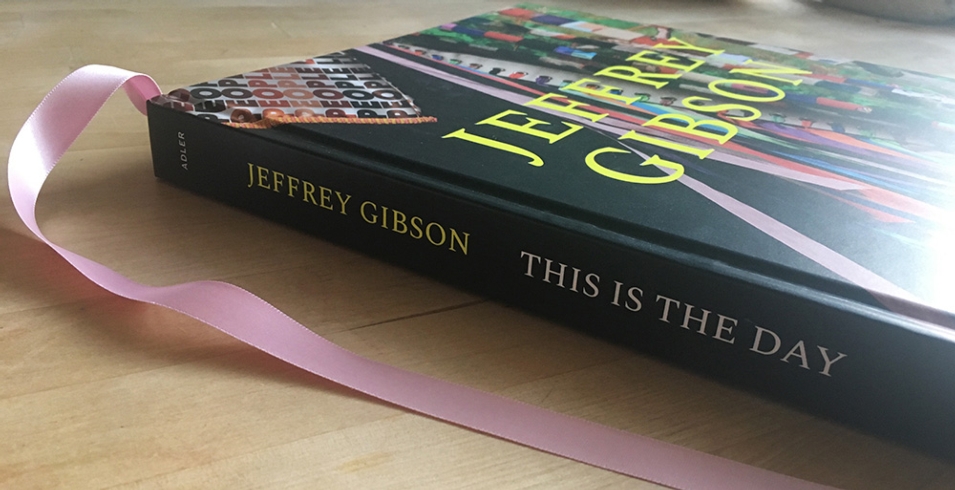 The book projects we've done with the Wellin Museum evolve in unexpected ways. When we started developing concepts for Jeffrey Gibson: This Is the Day more than a year ago, we were inspired mainly by Jeff's paintings, and the references to popular music in his textual work. An early mock-up of the book mimicked the square format and size of a vinyl LP, with the colorful geometry of Jeff's painting Between Rabbit and Fox.
Of course, the initial concept doesn't always stick, and ultimately the curatorial direction of the exhibition, and the artist's current work, inform the sensibility of the finished book. We visited Jeff's studio three times, and on the first visit we were blown away by the series of ornate garments and helmets that he was developing for the Wellin exhibition. We were familiar with Jeff's paintings, beaded work, and the punching bags, but this new work was a revelation.
At this point, Tracy Adler and I decided the book should focus on the Garments and Helmets, and we felt there was an opportunity to document the work in an innovative way. Tracy recommended the fashion photographer Caitlin Mitchell, and Jeff recruited models to wear the pieces. We shot the work over two long days. It felt like a crazy experiment, and the uncertainty made us nervous, but the resulting photographs were dynamic, strange, and beautiful. We knew we had something special.
The completed book is a hybrid: part fashion book; part artist monograph. Caitlin's dynamic photos take center stage, accompanied by balanced documentary images of a large cross-section of Gibson's work. At 224 pages, it's a big book but with some subtle touches — a pink placeholder ribbon, debossed type on the front cover, and custom printed endpapers. This book has been a labor of love for over a year. Now it's complete, we are excited for others to experience This Is the Day both at the Wellin, and on the page.
Jeffrey Gibson: This Is the Day is available for purchase. Click Here to be redirected.
More Blog