Encouraging Experimentation in College Curriculum:
Exploring Faculty Engagement at the Wellin
Author:
Michelle Reynolds, Curatorial and Programming Coordinator
Photo Credit
Heather Ainsworth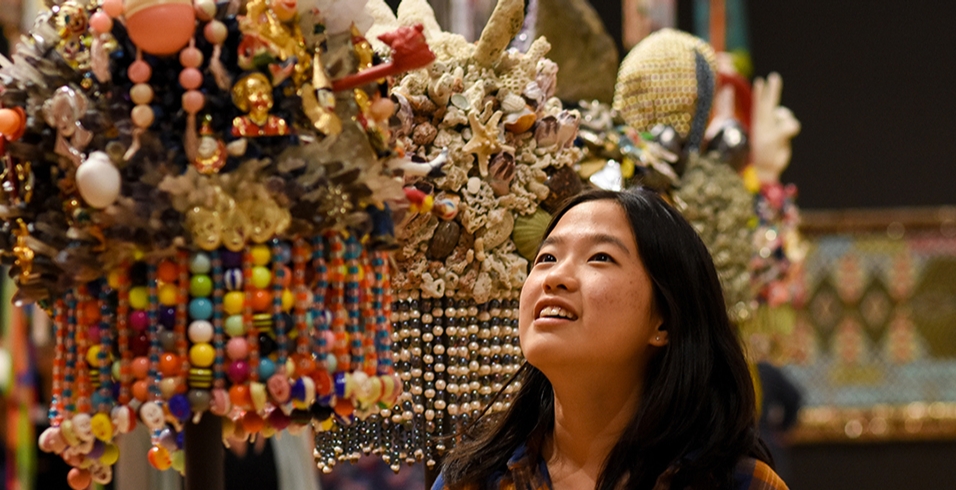 As the leaves begin to change and the fall semester pushes forward, the Wellin is busy welcoming college-level courses to our fall exhibition, Jeffrey Gibson: This Is the Day. This semester, the museum will host nearly 40 class sessions from 18 different courses that have incorporated Gibson's work into their curriculum. A sampling of participating courses and projects include:
Inspired by Gibson's sculptural works, an Art course will create works that reflect upon the language of materials and how the understanding of a piece is related to its materiality, form, and context.

A Communications course is using the works on view to practice vocabulary, conversation, and presentation in a unique setting outside the walls of the classroom.

Courses in French and German will use the Wellin's installation of Gibson's work to explore notions of identity and how this relates to the history of France and Germany.

A Literature course has integrated themes from the exhibition into their course discussions and final projects focused on repetition as it applies to issues such as authenticity, originality, and translation.

Two Religious Studies courses will explore how indigenous artists and institutions present, explore and demonstrate the meaning of indigenous identity.

A Theatre course will explore Gibson's use of the clown motif as it relates to their readings on the role of the fool in performance.
As a teaching museum, the Wellin presents exhibitions that are interdisciplinary and fit into the liberal arts curriculum. Since opening almost six years ago, the museum staff has worked closely each semester with faculty to generate projects that interact with our exhibitions in a meaningful way. To encourage this level of engagement, the museum facilitates an extensive outreach program that includes person-to-person interactions and programming designed specifically for faculty, such as information sessions about the museum's collection, tours of current exhibitions, and round-table discussions with curators and artists. We recognize the amount of work necessary to explore different subjects or generate a new assignment, so we have made it our goal to make teaching in the museum as approachable an endeavor as possible.
To further this mission, the museum recently rolled out a new initiative known as the Wellin Museum Grant for Innovative Teaching. At its core, this program seeks to develop and document approaches to teaching and learning with museum exhibitions. We wanted to continue working closely with faculty to create new assignments using object based learning, while also collecting data that illuminate how teaching and learning with an exhibition complements or contrasts with classroom-based practices.

This new program builds off the success of a Teagle Foundation supported project entitled "Teaching and Learning with Museum Exhibitions: An Inter-Institutional Approach." The goal of this grant was to help "develop and disseminate best practices in teaching and learning with museum exhibitions through a process of collaborative pedagogical innovation." Over the last two years, we have worked alongside our colleagues at Colgate University, Skidmore College, and University at Albany to explore new and innovative ways of encouraging faculty engagement with exhibitions. As Robert Knight noted in his post "Innovative Teaching at the Wellin," the Teagle Foundation grant has been a great foundational block for faculty outreach at the Wellin. The variety in courses and assignments this fall is a true testament to the power of this project and illuminates a myriad of ways that the Wellin can continue to work with faculty and develop exciting learning experiences at the museum.
More Blog