Director's Year in Review: Building Community Engagement through Art
Author:
Tracy L. Adler, Johnson-Pote Director
Photo Credit
Janelle Rodriguez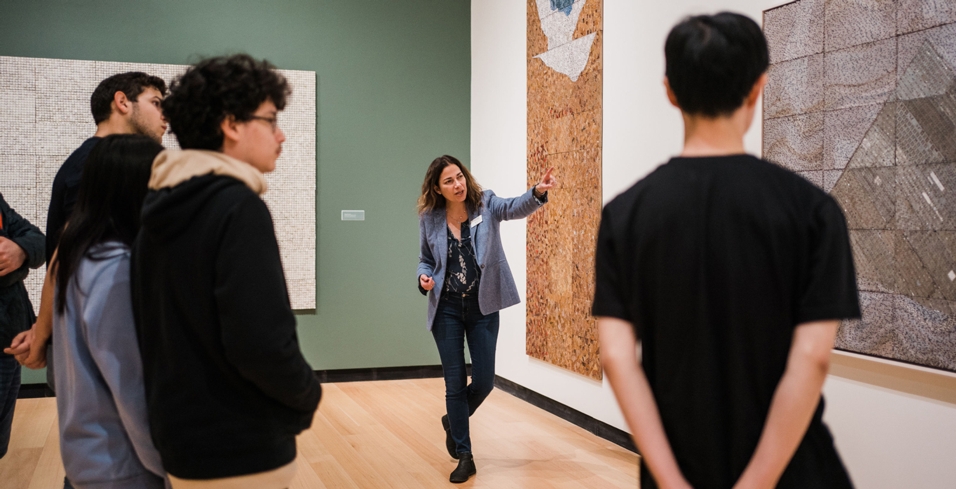 It's an exciting time to lead a museum, a time in which we are open enough to chart a new path for museums as spaces of learning, enjoyment, community, and wellness. It is also a time to rectify lapses in representation. Access—to education, resources, and museums—is more vital than ever. Here at the Wellin, we address inequity in several ways beyond our curatorial and collecting practices: Museum admission and all programs are free. School and community tours are likewise free of charge and customized to support the needs of teachers and local visitors. Every student docent is paid to work at the museum. Hamilton classes engage directly with artists and curators from around the world, and students have opportunities to work alongside artists on site-specific projects at the Wellin.

Over the summer seven students collaborated with artist Elias Sime to create the sculpture Flowers & Roots on the museum's Selch Terrace in conjunction with the exhibition Elias Sime: Tightrope. This fall, we welcomed 32 Hamilton College courses in 13 disciplines to engage with the exhibition and collection. We hosted 15 community programs, and launched campus community events such as slow-looking art yoga and Wellin Unwind—an art activity that aims to reduce stress for our students.
Being nimble is probably the best thing we can offer our audiences, responding to current events that touch our lives and impact our future. The Wellin sets the stage for thoughtful discussion around these issues and humanizes them. Artists are interpreters, and exploring their responses to history, culture, society, and current events provides us with an entry point into these discussions. As the Wellin's director, I select artists for exhibitions and the collection who engage us in dialogue. These voices inform and celebrate as they question, and they invite us to have our own responses.
Looking forward to 2020, our work will continue. Our current exhibition, Elias Sime: Tightrope, on view at the Wellin through December 8, will travel to the Akron Art Museum, Kemper Museum of Contemporary Art in Kansas City, and the Royal Ontario Museum in Toronto. Upcoming exhibitions at the Wellin include SUM Artists: Visual Diagrams and Systems-Based Explorations, a group show that explores the idiosyncratic nature of data visualization, and Michael Rakowitz: Nimrud, for which we have commissioned the artist to re-create a room in the Northwest Palace of Nimrud using his chosen medium of packaging for foods imported from the Middle East.
As a teaching museum, the Wellin tackles subjects and explores themes that are relevant and complex, with many layers and varying points of view. Over the past few years, our exhibitions have delved into such critical conversations as immigration (Margarita Cabrera), Native American and queer identities (Jeffrey Gibson), sustainability (Yun-Fei Ji and Elias Sime), and gender inequality (Julia Jacquette), among other current issues. We have mirrored these areas in our collecting efforts, acquiring work by the aforementioned artists as well as by Francesca DiMattio, Spencer Finch, Yashua Klos, Maria Martinez, Wendy Red Star, Alison Saar, Yinka Shonibare CBE, Barbara Walker MBE, and Kara Walker, among others, to strengthen and deepen our understanding of diverse perspectives and voices that broaden our worldview. We have made a commitment to that effort and plan to continue in that vein.
This December, we are launching a newsletter to keep our audiences apprised of our ongoing efforts to highlight new voices and share our programming. We hope you will join our conversation. To sign up for announcements and news, please click here. See you in 2020!
More Blog