Unpacking the Past: Letters from Cyprus:
Understanding the relationship between Isaac Hall and Luigi Palma di Cesnola
Photo Credit
Images courtesy of the Hamilton College Archives.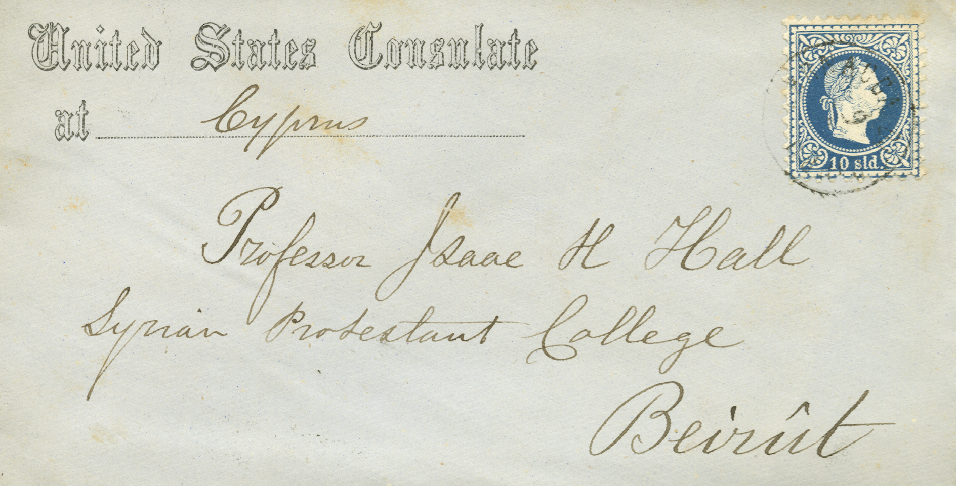 At this point in my research, I knew that two key men were involved with the collection of Cypriot antiquities now at the Wellin: Isaac Hollister Hall, Class of 1859, and Luigi Palma di Cesnola, the excavator of the objects, who was a friend of Hall's and also the U.S. Consul in Cyprus. I read numerous letters in the Hamilton Archives to decipher the relationship between the two men. The Archives has several dozen letters sent from Cesnola to Hall ranging in dates from 1876 to 1884 in its collection. At the beginning of their correspondence as represented in the Archives, Hall was teaching at the Syrian Protestant College at Beirut while Cesnola was serving in the final years of his consulship in Cyprus, which puts them in quite close physical proximity. While it is unknown how these men first became friends, I presume that Cesnola's growing interest in antiquity led him to reach out to Hall, who was recognized as the foremost American expert on the Ancient Cypriot dialect. Numerous objects that Cesnola excavated contained Cypriot inscriptions. Their early correspondence revolved much around Cesnola's excavations, particularly about the export of his collection and his request that Hall help him identify specific artifacts.
In these letters, we see a close professional relationship between the two men, but the correspondence also suggests a cordial friendship. This is exemplified throughout the letters, for example when Cesnola writes to Hall in a letter from December 15, 1878 that "5 boxes of bonbons have today arrived from Italian friends to my children what a pity you are not here to help us eat them." In the next post, I will discuss how the bulk of Cesnola's collection came to be at the Metropolitan Museum of Art, where Cesnola and Hall eventually worked together until their deaths.
This post is the fourth part of a series about the origins and history of the Wellin's recently acquired collection of Cypriot antiquities. For part one, visit: https://www.hamilton.edu/wellin/wellinformed/unpacking-the-past
More Blog