A Work in Progress:
Curating Michael Rakowitz: Nimrud
Author:
Katherine Alcauskas, Chief Curator Chazen Museum of Art University of Wisconsin–Madison
Photo Credit
Valerie Kane, Assistant Registrar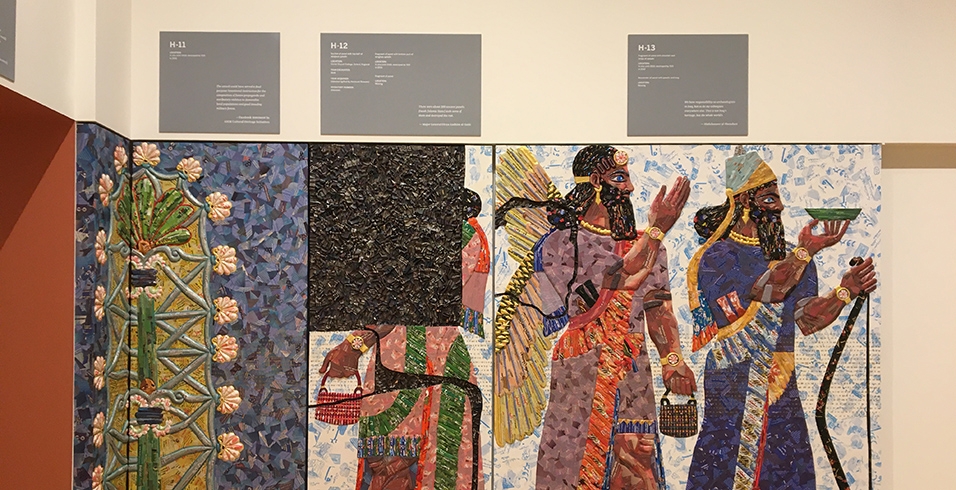 I first became aware of artist Michael Rakowitz at what you could call the dawn—or predawn even—of my career, having just graduated from Wellesley College with a double major in art history and classical studies, aspiring to be a curator of ancient Roman art (a lot has changed since then). That summer, having struggled to find an entry-level job at a museum in the months leading up to my graduation, I instead had the opportunity to intern at Wellesley's Davis Museum. The internship program was a wonderful experience, and included a guided trip to the Berkshires on the other side of the state for an art-filled weekend. One of the stops along the way was the contemporary art museum MASS MoCA, in Pittsfield, where a group exhibition called The Interventionists: Art in the Social Sphere was on view. Michael's project paraSITE was included in the exhibition, and is one of only two works in the show that have stuck in my mind in the intervening fifteen years. Never would I imagined at the time that I would one day be curating an exhibition of his work myself.
The idea for Michael Rakowitz: Nimrud evolved organically, as exhibition ideas typically do. Aware of Michael's work, I had followed his career loosely, noting occasional articles and exhibitions. It was only in 2016 or 2017 that I came to consider his work more seriously. The Wellin's Johnson-Pote Director Tracy Adler and I had visited the EXPO Chicago art fair that fall, had seen some of Michael's sculptures from the Invisible Enemy series, and had considered acquiring them for the Wellin's collection. In the end, the timing and circumstances weren't right for the acquisition, but the sculptures remained in my mind. We had recently reinstalled Hamilton College's Assyrian relief fragments in Archive Hall and Michael's work seemed an interesting way to probe the fraught history of museum practice and acquisition.
A couple years later, I suggested an exhibition of Michael's work. The rest, as they say, is history. It has been such a pleasure to work with an artist as thoughtful as Michael. There is a weight of meaning behind every facet of his artwork: no decision is made without intention. In addition, his work has influenced my curatorial practice and made me see museum collections in a new light: no longer objects, as those of us in the field often refer to them, but remnants—perhaps ghosts or shadows—of our compatriots.
More Blog