Donor Profiles
Jeff '71 and Claudia Little
For some time, Jeff Little had ongoing conversations with the College and his advisors about the gift tax exemption that is set to be reduced on December 31, 2012. In February, he called Ben Madonia, director of gift planning, to advise that he was going to take advantage of the current gift tax unified credit and establish a Charitable Lead Annuity Trust. Historically low interest rates make lead trusts particularly attractive at this time. As Jeff told Ben, "I had to take action this year." This trust will make annual payments to Hamilton for a term of years, with the remaining trust principal plus appreciation delivered to his heirs free of gift tax. Jeff and Claudia have been extremely supportive of the College's plans for new arts facilities, and the payments will support the new buildings. More ...


Nancy Ferguson Seeley and Dan Ferguson '48
When Trustee Nancy Seeley established a charitable remainder unitrust, she said, "My brother (Dan Ferguson '48) always says that his similar gift to Hamilton was the best investment he ever made." While a charitable remainder unitrust is a contribution, not an investment, planned gift donors typically are pleased with the asset management by the trustees, the payments they receive and the remainder value left to the College.
Philip Mead '59
"I value very much the lifelong friendships established with Hamilton classmates, faculty, staff and even classmates of our sons, both of whom also are graduates. The College has an important place in the life of the Mead family." Phil and Ann have completed three deferred payment charitable gift annuities with Hamilton. The income tax charitable contribution deductions saved taxes while they were employed, and the favorably taxed quarterly payments now supplement their retirement income. More ...
David Rothstein '56
"Whatever success I have achieved is in good part due to the exceptional liberal arts education I received and the intellectual stimulation of campus life. As time passes, I become steadily more aware of the tremendous impact which my four years at Hamilton had on my professional and personal life. I gained much broader horizons, an ability to think and speak on my feet, adaptability to changing situations and a curiosity about the world around me which has yet to subside."
In honor of his 50th reunion, David completed a charitable gift annuity with Hamilton. This gift, while benefiting the College some day, provided him with an income tax charitable contribution deduction and favorably taxed supplemental retirement income.

John K. Hutchens '26 Tim Hutchens '60 and John McCormick '92
"Thank you for the fountain of knowledge that drenched us," noted Tim Hutchens '60 as he continued the family tradition of including the College in his Will. His father, John K. Hutchens '26, set the example with a bequest to Hamilton. And the legacy doesn't end there; John McCormick '92, Tim's nephew and John's grandson, recently reported that he plans to include Hamilton in his Will. Regardless of size or purpose, bequests to Hamilton — a tradition begun in 1842 by William H. Maynard — reflect gratitude and loyalty to the College as well as concern for its future strength.


Brent '58 and Susan Wedding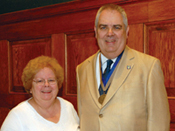 After his graduation from Hamilton, Brent Wedding '58 returned to his home state to pursue an M.S. and Ph.D. at the University of Illinois. He was subsequently hired by Corning Inc., where he worked as a research physicist. In 1991, Brent and his wife Susan had a plan for the future when they established their first deferred payment charitable gift annuity with Hamilton. It was simple — they wanted to express gratitude to the College. Nine deferred payment gift annuities and numerous capital and Annual Fund gifts later they have done that and more. Now in retirement, the annuity payments augment their income. More ...


Colonel Theodore H.M. '47 and Janet Wert Crampton
Geologist Janet Wert Crampton says the renown of Hamilton's Geosciences Department is a motivating factor in the consistent financial support she and her husband Colonel Theodore H. M. Crampton '47 have given the College. Ted Crampton notes that besides repaying alma mater, annuities serve as welcome sea anchors just when most other assets have lost value. They appreciate that the gift annuity rate is higher than CD or money-market rates and gift annuity income has tax advantages over other fixed income. Since 1999, the Cramptons have completed seven charitable gift annuities with Hamilton.


Lawrence '52 and Winifred Gulick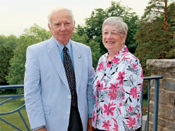 Lawry Gulick '52, distinguished professor at the University of Delaware, Dartmouth College and Hamilton, dean of the faculty at Hamilton and president of St. Lawrence University, along with his wife Win, established a charitable remainder trust with Hamilton and funded it with a seaside vacation condominium. The remainder value will establish the Gulick Fund, with the annual income used to support the Senior Fellowship Program, established by Lawry when he was dean. More ...


Life Trustee Elizabeth J. McCormack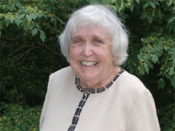 When Hamilton kicked off the 175th Anniversary Campaign in 1983, Elizabeth McCormack made a $3,000 pledge. Many gifts and several capital campaigns later, she continues her commitment to the College. In 2005, she pledged $1 million to the Excelsior Campaign and fulfilled that commitment by completing two charitable gift annuities.

Commenting on a major advantage of making a planned gift, Elizabeth McCormack said, "Completing my charitable gift annuity allowed me to make the contribution during my lifetime." More ...

Karen and Art '64 Massolo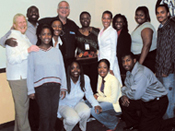 "Establishing a scholarship to support disadvantaged students and augmenting it through a charitable remainder unitrust have been among the best investments we have ever made. The scholarship enables recipients to attend a first class liberal arts college they never may have dreamed possible and enhances the lives of the entire Hamilton community by increasing diversity. The trust has been financially sound; as the endowment grows, so do our payments and the ultimate addition to the scholarship." More ...

Barbara and Dean '50 Alfange, Jr.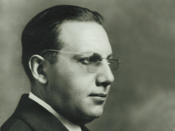 The genesis of a gift to Hamilton can be quite simple – a donor wishes to benefit the College. However, in the case of the Alfange family, a single gift led to a full circle of support. In 1937, Dean Alfange '22 received the inaugural Theodore Roosevelt Memorial Award for his book The Supreme Court and the National Will. With generosity and foresight, he contributed his $2,500 prize to the College to endow the Dean Alfange Essay Prizes, awarded each year to two students who write the best essays on the development of American constitutional government. More ...

Philip '78 and Elizabeth K'77 Hawkins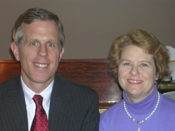 Philip '78 and Elizabeth K'77 Hawkins Like many alumni couples, Phil Hawkins '78 and Elizabeth Porter Hawkins K'77 share a nostalgic fondness for the College where they met. But it's looking ahead to the future that motivates them to support Hamilton. "I enjoyed my Hamilton experience very much. Hamilton taught me lessons in learning and getting along in a community. It helped me begin to grow up," Phil recalled. "I may not have agreed with every decision made at the College over the years, but I am encouraged about what Hamilton has become. It's a place that continues to provide very relevant and meaningful opportunities to today's young people." More ...

Gerald '59 and Polly Dirvin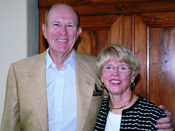 In the weeks following his Hamilton graduation, Gerald Dirvin '59 set the course for the rest of his life by marrying Polly Burnett and starting to sell soap for Procter and Gamble in Utica. "I really needed a job and a car!" recalls Jerry, who retired in 1994 after 35 years with the company.

Despite a busy career that took the couple to eight cities in their first 15 years of married life, Jerry and his houseparty date remained ever supportive of the College. A Hamilton trustee for nearly 25 years, Jerry has mentored dozens of students and young graduates through the career search process. For some, it meant jobs with PandG; for others he served as counselor, helping them identify the best career path.

Linda and Albert '42 Hartig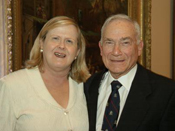 Today it might be delivering Meals on Wheels or volunteering at the local hospital and nursing home. Tomorrow it could be offering encouragement to donors at a Red Cross blood drive or contacting classmates on behalf of Hamilton. No matter what is on his agenda for the day, Al Hartig '42 has always been one to roll up his sleeves and get the job done. Together with his wife Linda, the Hartigs commit dozens of hours each month to a variety of causes in the Greenwich, Conn., area. Al, who retired in 1988 as a partner at the brokerage firm Gruntal and Co., says "people make too much of a big deal" out of the time and effort he volunteers, because to him, "it seems like so little." Plus, "it gets me out of the house. People don't realize I really do all this as much for myself as I do for others," he said.

Sally and Hans Solmssen '59, P'90, '94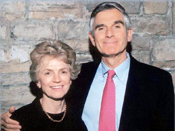 Hans and Sally Solmssen decided to consult a financial planner for retirement and financial planning advice. "Everyone's situation is different.We found ourselves with a stock portfolio that had a very low cost basis. After meeting with our financial advisor, it became clear that establishing a charitable remainder unitrust would provide many advantages in terms of income and capital gains tax savings," Hans said. In addition, the Solmssens receive quarterly income distributions."Having that consistent cash flow in our retirement is especially desirable." Above all, there was the added incentive of being able to do something significant for Hamilton."The unitrust," Hans said,"has allowed us the opportunity to make a much larger gift than we ever thought possible."

Scott '92 and LynnErin McNeil '92 Tyler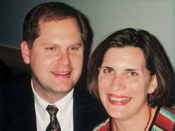 Scott and LynnErin value Hamilton for their education and bringing them together. As LynnErin recalls, "Hamilton is where Scott and I met, and it will be a special place for us forever." With two small children, Mary and John, they realized having wills in place was important. When they began planning how to handle their assets, they decided to include Hamilton among their testamentary bequests. "We felt it was important to show thanks to Hamilton for the invaluable foundation it provided both of us as we started our academic and professional careers."

Charles '46 and Nancy Brink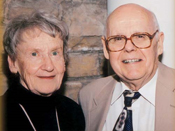 "The training of Swampy Marsh stood me in good stead," noted Charles G. "Chuck" Brink '46. "My Hamilton education taught me the importance of language as a means of expression and persuasion."

Those skills, honed under the watchful eye of Professor of Rhetoric and Oratory Willard "Swampy" Marsh, served Chuck well throughout the years. He enjoyed success in three careers — radio and television broadcasting, managing his family's business, the Binghamton Industrial Supply Co., Inc., and, at SUNY Binghamton, as both an adjunct faculty member and as a volunteer, where he began the university's planned giving office.

Anthony R. '39 and Muriel D'Agostino, Jr.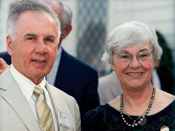 Nemo D'Agostino has enjoyed a rewarding career in real estate development and building golf courses in the northeast. "I am satisfied with my life...and I attribute much success to my ability to extrapolate from my education at Hamilton." A nurse, who rose to one of the top public health positions in New York State, Muriel often speaks glowingly of Nemo's Hamilton education. Clearly, it enriched their lives.