As leaders in education and environmental stewardship, students, faculty, and staff at Hamilton are committed to protecting and sustaining the environment through institutional processes, management of facilities, and curriculum.
Sustainability Commitments
The four-year efforts of the Sustainability Working Group have resulted in three plans that amongst other things, seeks to achieve carbon neutrality by 2030, 20 years earlier than originally announced in 2007.
Academics & Research
Sustainability is an integral consideration in many facets of a Hamilton education, from curricular offerings to off-campus study options and student research opportunities.
Climate Leadership
Members of the Hamilton College community are committed to developing environmentally conscious facilities and policies and are active in sustainability initiatives.
Student Engagement
Hamilton College students find many ways to get involved with sustainability efforts on campus and beyond through clubs such as HEAG and summer internships.
Land
Hamilton has a 1,350-acre campus (800 acres of which are undeveloped) and can trace its landscape-preservation commitment to 1850, when Oren and Nancy Root bought a building near the center of campus and began their stewardship of the surrounding environment.
Facilities
Hamilton uses Leadership in Energy and Environmental Design (LEED) guidelines as a basis for design in new construction and for major renovations. The College also seeks sources of renewable energy to reduce its carbon footprint.
Reduce, Reuse, Recycle
Hamilton cuts waste by promoting campus-wide recycling, composting food and reusing products through annual programs such as Cram & Scram. Hamilton also participates in Recyclemania, an eight-week competition for colleges and universities.
Food
Shrinking the distance our food travels from farm to plate is one way that Hamilton's food service provider leads the way in changing the way people eat. Sourcing closer to home draws us back to the land, back to the kitchen, and back to the simple pleasure of real, seasonal food.
Transportation
Students don't need to have a car on campus to run an errand, visit the mall, or go out to dinner and a movie. They can use the Jitney shuttle service, sign up for a Zipcar account to rent a car by the hour or day, take a taxi, or hop the public bus.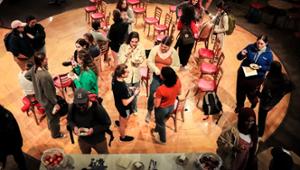 Contact
Contact Name
Brian Hansen
Director of Environmental Protection, Safety and Sustainability