Lawrence "Lawry" '52 and Winifred "Win" Gulick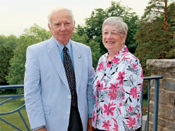 Lawry Gulick '52, distinguished professor at the University of Delaware, Dartmouth College and Hamilton, dean of the faculty at Hamilton and president of St. Lawrence University, along with his wife Win, established a charitable remainder trust with Hamilton and funded it with a seaside vacation condominium. The remainder value will establish the Gulick Fund, with the annual income used to support the Senior Fellowship Program, established by Lawry when he was dean.

On the occasion of their gift, Lawry said, "The essence of Hamilton resides in its talented faculty, a faculty that rewarded only my best efforts as a student, and one that insisted upon my learning the importance of effective written and oral discourse." The Gulick Fund will provide necessary resources for future students and faculty to enjoy the educational opportunities Lawry experienced as a student and nurtured as dean.

Initially, Lawry served as trustee of the trust, allowing him to manage the sale of the vacation home; then he resigned and appointed Hamilton as successor trustee. The Gulicks will receive quarterly payments from the unitrust equal to 5% of the annual valuation of the trust assets. The 5% unitrust — the lowest rate permissible under federal law — allows maximum trust appreciation to meet the philanthropic objectives of the Gulick Fund and payments that are likely to grow and keep pace with inflation over time.

By establishing their planned gift, the Gulicks benefited from an immediate income tax charitable contribution deduction and saved capital gains tax on the appreciated real property. They will receive their variable payments for as long as either one of them lives — from an asset they no longer needed and one which produced no income.