Fillius Jazz Archive: Swinging for 25 Years
A visit to Hamilton's Fillius Jazz Archive will introduce you to a cornucopia of recordings from Edison Diamond discs to classic jazz LPs, photographs from Milt Hinton and Lee Tanner, and a collection of memorabilia from the estate of singer Joe Williams H'88. Yet those treasures are only the opening act for the true spotlight of the collection — 400+ video interviews that together form an oral history of jazz from the Big Band Era to today's contemporary sounds.
Now marking its 25th anniversary, the archive, named in honor of its founder, the late Milton F. Fillius, Jr. '44, H'96 and his wife, Nikki, has earned a reputation as a resource for music historians and casual jazz buffs alike. Interviews feature not only jazz legends such as Dave Brubeck, Lionel Hampton, and Marian McPartland H'97, but men and women who worked behind the scenes, from arrangers to critics.
Monk Rowe, the Joe Williams Director of the Jazz Archive and instructor of saxophone at Hamilton, has led the archive from its inception, traveling the U.S. and beyond not only to conduct interviews, but to talk about the archive at such venues as the International Association of Jazz Educators in Toronto, at the International Society of Music Educators in Glasgow, and where it all began, in New Orleans at the Jazz Education Network.
In 1996, the archive produced the concert documentary Joe Williams: A Portrait in Song, filmed in Wellin Hall, and in 2005 co-produced the CD Joe Williams, Havin' A Good Time on Hyena Records. Twice Rowe has hosted an open online course on EdX titled "Jazz: The Music, The Stories, The Players."
To mark 25 years of the Fillius Jazz Archive's achievements, we invite you to check out the video interviews, many of which are available on this YouTube channel. For more on the history of the archive, see "Doin' that Jazz Talk" from the Fall 2005 Hamilton Alumni Review.
Jazz Archive Director Monk Rowe picked a baker's dozen of his favorite interviews. These sessions offer a cross section of musicians who share fascinating stories about their music, their lives, and the times they grew up in.
Kenny Davern H'00 – clarinet
Kenny was a favorite at Hamilton's traditional Fallcoming Jazz event. His acerbic wit and prodigious memory provided us with an entertaining and educational session. Kenny was a favorite at Hamilton's traditional Fallcoming Jazz event. His acerbic wit and prodigious memory provided us with an entertaining and educational session.
Marian McPartland H'97 – piano
The longtime host of NPR's Piano Jazz, Marian related stories of entertaining troops in the WW II European Theater and emigrating to the U.S. to find her place in the "man's club" of jazz.
Charlie Gabriel – saxophonist
One of our most recent interviews, Mr. Gabriel exudes a New Orleans joie de vivre and wistfully shares memories of how he "could have been a millionaire" twice!
Joe Wilder H'06 – trumpet
Joe was a member of the first integrated Marine battalion, a recipient of the NEA Jazz Masters award, as well as an honorary degree recipient from Hamilton. Equally at home in a big band or symphony orchestra, Joe prided himself on his musicianship and professionalism.
Steve Allen – pianist
Musician, author, actor, composer, and initial host of the Tonight Show, Mr. Allen offered no-holds-barred opinions on a wide variety of subjects.
Gerald Wilson – arranger/composer and Snooky Young – trumpet
One of our select double interviews, these lifelong friends enlighten us about the West Coast jazz scene and describe the excitement of being a young man living the dream.
Hamilton's Jazz Archive serves as a resource for music historians and educators as illustrated in these comments by Denis DiBlasio, director of composition, jazz studies; executive director of the Maynard Ferguson Institute of Jazz Studies at Rowan University:
When is the world going to discover the wealth of history and folklore that arise from of these interviews? Hearing from the mouths of geniuses that created this music is a privilege. Many of [Director of the Jazz Archive] Monk [Rowe]'s early interviews of giants now gone offer a priceless never-to-be-repeated view of what happened way back when.
The interviews are a large part of my own three-pronged teaching. Students learn a song, transcribe a solo, drill the song structure, and investigate its history. Monk's interviews may be of a composer, performer, or someone who is acquainted with the history of that particular tune. The jazz history texts don't hold a candle to hearing how Nat Adderley composed "The Work Song" or learning from psychiatrist/pianist Denny Zeitlin why certain people have problems learning jazz. One can't begin to list the information that can be gleaned from these interviews.
Monk asks the right questions and most importantly lets the artist speak. He has immaculate interviews with artists who don't even give interviews! Nancy Wilson has her best interview I ever heard with Monk. Ron Carter rarely gives interviews, and Monk nailed that one. The list goes on and on. The interviews are the jazz world's version of Leonard Bernstein's Young People's Concerts.
Nancy Wilson – vocalist
Nancy Wilson exuded talent and class and offered cogent advice on how to avoid typecasting in the music business. She sang on my favorite LP of all time, Nancy Wilson & Cannonball Adderley.
Jack Sheldon – trumpet
Fans of "Schoolhouse Rock" loved Jack's distinctive voice, (he was "Bill" in "I'm Just a Bill"). Jack was also a fabulous trumpet player, an actor, a legendary raconteur, and a marvelous interviewee who currently has over 17,500 views on the Fillius Jazz YouTube channel.
Eddie Locke – trumpet
The camera loved Mr. Locke, who was simultaneously exuberant and humble as he described being in awe of the jazz giants who became his mentors.
Toshiko Akiyoshi – piano
Born in Japan and raised in China, Ms. Akiyoshi tells a fascinating tale of learning jazz from American GIs post World War II. She also describes her composing process and the challenge of leading a big band.
Clark Terry H'95 – trumpet with Joe Williams H'88 – vocalist
Two jazz icons share anecdotes as only friends and fellow road warriors can. Their experiences offer valuable insight into a vital segment of American society.
Jon Hendricks – vocalist, lyricist
Two interviews with the "James Joyce of Jive" — from 1995 and 2000 — complete our list. Jon reminisces about his childhood during the Depression and blesses us with his perspective on race, religion, and the human condition.
In addition to insights into making a career as a musician, interviews in the Jazz Archive include stories of life on the road and in the active New York City recording scene as well as race relations (past and present) in jazz. Here, Frank Alkyer, publisher of Downbeat magazine, shares his thoughts: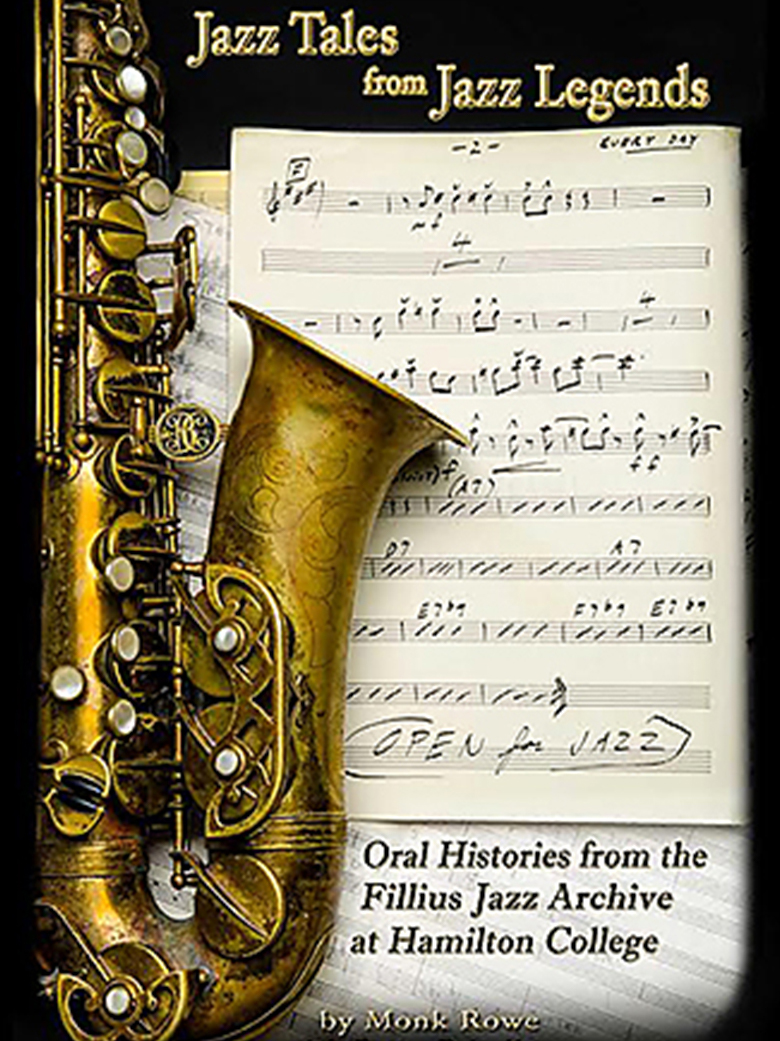 As a fan of the history of this music, I applaud anyone striving to preserve the people, places, and stories that make jazz such a glistening cultural touchstone. Monk Rowe and the team at the Fillius Jazz Archive have been doing righteous work for a quarter century now and deserve our deep gratitude for the interviews they have curated with such love, care, elegance, and grace.
What I truly love is that in addition to hundreds of interviews with our greatest artists, the archive also includes dozens of deep dives with some of the most important people behind the scenes. One of my favorites is an interview with Helen Oakley Dance, who has been credited with being the first woman to produce jazz recordings. This one is near and dear to me for another reason. She was the first woman to contribute to DownBeat magazine back in the 1930s. I never got to meet her, but this interview — like all of the archive's work — brings her to life, first-person, as a soulful jazz insider and a seminal contributor to the tradition.
Congratulations to the archive and cheers to many more years of great interviews!