11 Students Awarded Levitt Summer Research Fellowships
---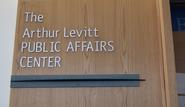 Eleven Hamilton students have been awarded Levitt Summer Research Fellowships for 2010. The students receive a stipend and spend 10 weeks in the summer working intensively with a faculty mentor. Among this year's projects are a study of U.S. auto industry reform, contraception in Rwanda, and the changing state capacity of post-Communist states.

The 2010 recipients, their projects and faculty mentors are:

Jeffrey Cardoni '11 with Professor Alan Cafruny
U.S. Auto Industry Reform

Sam Cowan '11 with Professor Ted Lehmann
Should the Cold War Relic be Scrapped? NATO and the Future of U.S. Interstate Relations

Arielle Cutler '11 with Professor Anne Lacsamana
Teaching Media Literacy: Resisting Construction of Gender through Educational Programming

Cristina Garafola '11 with Professor Sharon Rivera
Crisis and Control: Changing State Capacity of Post-Communist States

Emily Gerston '11 with Professor Stephen Ellingson
Slacktivism and Activism in American Political Life

Anne Hudson '12 with Professor Alan Cafruny
Tackling National Cohesiveness in the Balkans

Tongxin Lu '11 with Professor Douglas Ambrose
The Future Relations between the People's Republic of China and the Holy See

Steven Mello '11 with Professor Stephen Wu
Contraception as Health Development in Rwanda

Adam Minchew '12 with Professor Robert Paquette
The "Fusionism" of Frank S. Meyer

Xu Shichen '12 with Professor Derek Jones
The Behavior of Employee-owned Firms: Evidence from the Mondragon Cooperatives

Hanbin Yang '12 with Professor Christophre Georges
Chinese Technological Innovation in High-tech manufacturing Industry: A Case Study of the Semiconductor Industry

The Levitt Research Fellows Program is open to rising juniors and seniors who wish to spend the summer working in collaboration with a faculty member on an issue related to public affairs. Those selected for the program are required to provide a written assessment of their work at the completion of the summer, and also participate in a poster session in the fall. Levitt Fellows are automatically eligible to participate in the Levitt Scholars Program, in which they discuss their research in local high schools.