13th Annual Gospel Choir Workshop at Hamilton
---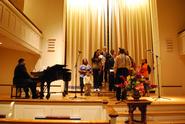 Hamilton College will host its 13th annual Gospel Celebration, "The Storm is Passing Over," music ministry and worship celebration on Saturday, Oct. 22, from 7-9 p.m. in the Chapel. This event is free and open to the public, including colleges, churches and communities from the Finger Lakes to the Mohawk Valley.
Edward "Chief" Menifee, Jr. of Atlanta will provide piano accompaniment and lead the gospel choir, and Dr. Roxanne Bellamy-Campbell, Hamilton College adjunct chaplain for multicultural communities, will be worship event speaker. Her talk is titled "The Storm: Brace or Embrace." The choir is comprised of Hamilton students and other college community members, as well as gospel choirs from other local colleges and churches, and anyone from the community who would simply like to sing with this workshop. Invited colleges include Colgate University, Muhlenberg, Syracuse University, Utica College, Wells College and SUNY Oswego. More than 70 churches in the Utica/Rome area are also invited.
Rehearsals in the Chapel for the community gospel choir will take place on Friday, Oct. 21, from 7-9 p.m., and Saturday, Oct. 22, from 9 a.m. to 1 p.m., in the Chapel.
Those interested in singing in the community choir should contact Roxanne Bellamy-Campbell at 315-794-1553 or email rbellamy@hamilton.edu for more information.