16 Seniors Elected to Phi Beta Kappa
---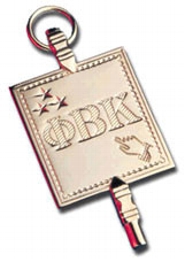 Sixteen Hamilton seniors were elected to the Epsilon chapter of Phi Beta Kappa, the nation's oldest honor society, in March.

The inductees are Stephanie Anglin, Corinne Bancroft, Stephen Chaponis, Marcus Dormanen, David Foster, Katherine Hails, Valerie Hanson, Yin Tik Hung, Oscar Lied, Sakhile Matlhare, Lindsay Repp, Andrew Rogan, Kevin Rowe, Amy Tannenbaum, Elyse Williamson, Danica Wuelfing.

Phi Beta Kappa is the oldest and most prestigious honor society in the country. Students are elected to membership in recognition of their exceptional academic achievement in fulfilling the goals and purposes of the college.