2009 HANSA Fellows Begin Agency Work
---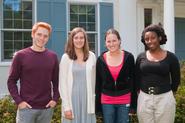 The second class of the Hamilton Alliance for Nonprofit Strategic Advancement (HANSA) has been selected and the four student program fellows have begun work with their agencies. The HANSA program, launched in 2008, partners with non-profit agencies in the Mohawk Valley on specific projects and staffs the agencies with student fellows interested in pursuing non-profit leadership roles.

This year's fellows are Hathaway Burden '10, Brendan Carroll '10, Sarah Goodell '11 and Kenya Lee '10.

HANSA is operated through Hamilton's Foundation, Corporate and Government Relations Office, staffed by William Billiter and Amy Lindner, who provide training and mentoring throughout the fellowship.

Through the HANSA fellows program, students will receive hands-on training that will enable them to complete significant, semester-long projects, on behalf of agencies. In turn, it creates a feeder program for nonprofit management degree programs, filling a documented need for leadership in the national nonprofit sector.

"These students will have a substantive effect on the agencies at the administrative level," said Billiter. They work in such areas as finance, fundraising, program evaluation and will report directly to their organization's CEO. "They'll obtain training and step into administrative level roles. That, in turn, will enable them to pursue a graduate level education in non-profit management," he explained.

Hathaway Burden is a HANSA fellow with the Peacemaker Program, Inc., in Utica. The organization offers a variety of services including mediation and child advocacy. Burden will be working with Peacemaker staff and its board of directors to complete needs assessment for the marketing program and begin to outline a strategic marketing plan.

Brendan Carroll will be working with the Multicultural Association of Medical Interpreters (MAMI) in Utica. MAMI provides trained interpreters for speakers of limited English in medical, legal, mental health and domestic violence/sexual abuse situations. His project is to develop positioning strategy that will enable the organization to strengthen and expand its connections with its community constituents and raise the agency's profile in the community.

Sarah Goodell's fellowship is with the Thea Bowman House in Utica. The organization works with children and families who are at risk of experiencing violence, mainly domestic violence. Goodell is helping to develop a strategic plan for the agency.

Kenya Lee is a HANSA fellow with Move Along Inc., a new non-profit aimed at helping individuals with physical disabilities. She'll be working with the founder Greg Callen on researching existing Paralympic training centers to develop a strategic plan for the possible creation of such a center in Syracuse, N.Y.

Lindner explained that this program is unique because other non-profit service opportunities at Hamilton involve direct work, such as building Habitat for Humanity homes, working in soup kitchens or having direct interaction with agencies' clients. "This program will train them in the administrative side of the non-profit sector and expose them to the challenges regularly faced by the agencies' senior management," Lindner said.

HANSA fellows will do a public presentation about their experience at the end of their fellowship.

For additional information, visit HANSA's website or contact the Office of Foundation, Corporate, and Government Relations.