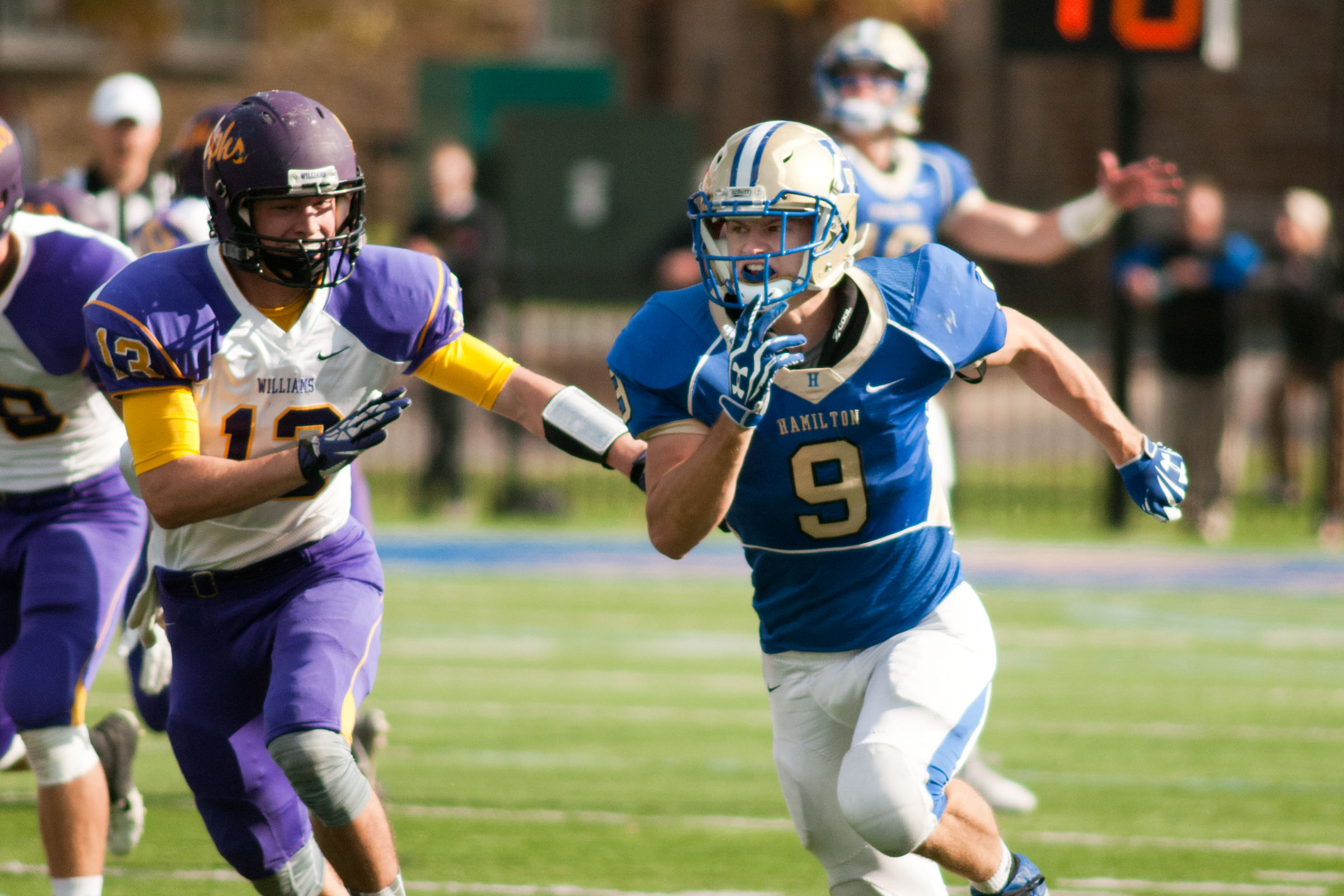 Quarterback Chase Rosenberg '17 and linebacker John Phelan '16 return to lead the Hamilton College Continentals into 2015.

A total of 16 starters are back for second-year coach Dave Murray, not including kicker Zach Altneu '18 and punter Pat Donahoe '16. Donahoe also caught 17 passes for a team-best 17.1 yards per catch as a wide receiver last year.

Defensive tackle Michael de Percin '15 and offensive tackle Nick Noonan '15 graduated in May and leave huge shoes to fill on both sides of the line of scrimmage. Both players made the 2014 NESCAC all-conference and D3football.com all-region teams, and de Percin collected Eastern College Athletic Conference Division III North All-Star first team honors.

Hamilton opens the 2015 schedule with home games against Tufts University (Sept. 26) and Wesleyan University (Fallcoming on Oct. 3). The Continentals host Colby College for Family Weekend on Oct. 24 and wrap up the season with Bates College at Steuben Field on Nov. 14.

Rosenberg -- a two-year starter under center -- ended up fourth in the NESCAC last year with 183.4 yards per game of total offense. He finished 112 of 213 for 1,162 yards passing and six touchdowns. Colin Pastorella '16 completed 22 passes for 274 yards as Rosenberg's backup. Pastorella played the entire 2014 season finale at Bates after Rosenberg was injured in the previous game.

Last year's top rusher LaShawn Ware '17 is back to lead Hamilton's ground game, and he was one of the leading receivers with 15 catches. Nick Caso '16 tops all returners with 21 receptions in 2014. Charles Ensley '17 tied a team record for receptions in a game with 14 against Tufts in last year's season opener.

Noonan is the only 2014 starter on the offensive line not returning this year. Dylan Berardelli '16, Rob McClure '17, Todd Roeder '16 and Matt Snider '17 are all back in 2015.

Phelan finished seventh in the NESCAC with 68 tackles and added two interceptions and a pair of fumble recoveries. The rest of the linebacker corps features Matt Glebus '17 and Cade Larabee '16. Glebus led the team last year with 33 solo tackles and posted a total of 58 stops. He also forced two fumbles. Larabee was credited with 45 tackles in six games, returned an interception 29 yards, forced a fumble and recovered one.

Alex Mitko '16 topped the secondary with 51 tackles and added a fumble recovery, a forced fumble and a blocked kick. Jimmy Giattino '17 (41 tackles and an INT) and James Taylor '17 (39 tackles, one pick) are also back this year.

On the defensive line, Nick Sobczyk '17 and Brent Lobien '17 ended up with 31 tackles apiece. Sobczyk rang up eight stops behind the line of scrimmage for a loss of 26 yards.

Altneu was perfect on all 13 extra-points and three field goal attempts last year. He also handled most of the kickoffs. Donahoe landed eight punts inside the opponents' 20-yard line and forced the other team to fair catch nine others. Return duties might be handled by Ensley or one of the 30 newcomers to the roster.