24 Members of Class of 2009 Elected to Phi Beta Kappa
---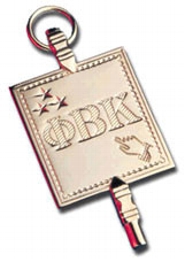 Twenty-four members of Hamilton's class of 2009 were elected on May 21 to the Epsilon chapter of Phi Beta Kappa, the nation's oldest honor society. They join 24 classmates who were elected earlier this year.

The students newly elected are Meryl R. Ayres, Sarah A. Bertino, Ilana G. Carlin, Matthew G. Crowson, Kyle A. Dolinsky, Matthew D. Gordon, Kyla S. Gorman, Rebecca L. Griffin, Patrick D. Hodgens, Jennifer A. Karl, Mary Daphne Kostakopoulos, Amanda R. Levin, Thomas J. Lewek, Melissa A. MacPhee, Peter A. Mallozzi, Yuqi Mao, Rachel Q. McReynolds, Ashley A. Stagner, Susan E. Stanton, Emma E. Stewart, Jesse D. Stromwick, Christopher C. Sullivan, Kristin M. Webster, and Emma M. Woods.

Phi Beta Kappa is the oldest and most prestigious honor society in the country. Students are elected to membership in recognition of their exceptional academic achievement in fulfilling the goals and purposes of the college.