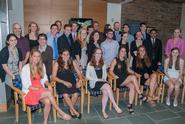 The Hamilton College Chapter of Sigma Xi, the scientific research society, initiated 24 members of the Class of 2014 to associate membership on May 23 at the annual banquet in the Taylor Science Center Atrium. Family members in attendance enjoyed a program of observations by mentors about the students, their research and student plans to continue in research.
Students initiated were: Kim Bogardus, Summer Bottini, McKinley Brumback, Peter Campbell, Maggie Doolin, Gabrielle Fleming, Robert Hayden, Alice Henry, Katherine Hill, Victoria Hull, Alexandra Huss, Leah Krause, Dan Lustberg, Dan Mermelstein, Clare O'Grady, Christopher Richardson, Doug Santoro, Justin Stephen Smith, Kerkira Stockton, Sunrose Shrestha, Brandon Wilson, Emily Winters, Colyer Woolston and Sam Zimmerman.
Three faculty members were also initiated. Visiting Assistant Professor of Anthropology Khori Newlander '04, who was initiated as an associate member when he was a senior, was promoted to full membership. Assistant Professor of Psychology Alexandra List and Visiting Assistant Professor of Psychology Kara Sage were also initiated as full members.
Sigma Xi is an international honor society of science and engineering professionals that facilitates a variety of activities that support scientific research. Hamilton College was one of the first wholly undergraduate colleges to be granted a chapter when its club earned an upgrade to chapter status in 1965.