27 Seniors Elected to Phi Beta Kappa
---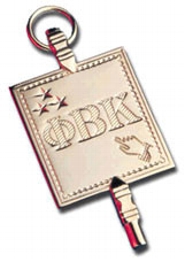 Twenty-seven seniors were elected to the Epsilon chapter of Phi Beta Kappa, the nation's oldest honor society, on May 20.

The inductees are William K. Bauder, Hathaway C. Burden, Kaitlin A. Cassel, Jenna C. Cohen, Sam A. Colalillo, Gail M. Corneau, Jane M. Cowles, Diana R. Di Leonardo, Laura E. Holt, Julia K. Howles, Meredith V. Kivett, Katherine A. Lafen, Kye Lippold, Jacqueline P. Marra, Elizabeth H. Marris, Tawanda Mashavave, Stephen D. Okin, James D. Reynolds, Elizabeth S. Timpson, Laura F. Tornatore, Ryan H. Seewald, Meghan L. Shine, Jared M. Sorin, Grace E. Stadnyk, William A. Stateman, Elizabeth C. Weber and Kendra E. Wulczyn.

Phi Beta Kappa is the oldest and most prestigious honor society in the country. Students are elected to membership in recognition of their exceptional academic achievement in fulfilling the goals and purposes of the college.