Fourth Annual Dorm Energy Battle is On
---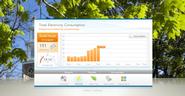 Hamilton's fourth annual "Dorm Energy Battle" began on Nov. 3. Campus residence halls are competing against each other to see which can reduce its power consumption the most during a three-week period. The annual dorm energy battle measures reductions in energy consumption by finding the kilowatts per hour used in each dorm during the three week period, and comparing those figures to power usage measured from August 2, 2010.
This year, for the first time, Hamilton is competing with institutions in New York State and with other colleges across the nation to see which can cut its total energy consumption the most during the three week period.
Energy use in each building is made visible in real-time here. On this page, students can view the total energy consumption and conservation in dorms and academic buildings from August 2, to today, and compare Hamilton's total usage and conservation to other colleges and universities and their buildings. Tips for energy conservation are also available.
As of November 10, 100 College Hill Road is leading with a 16.1 percent reduction, followed by Major and Dunham with 5 percent and 1 percent, respectively. Hamilton College stands in 35th place in the national competition.
Prize packages for winning dorms include t-shirts, sweatshirts, reusable shopping bags, and fluorescent light bulbs. This competition is sponsored by the Hamilton Environmental Action Group, in collaboration with Physical Plant and Residential Life.