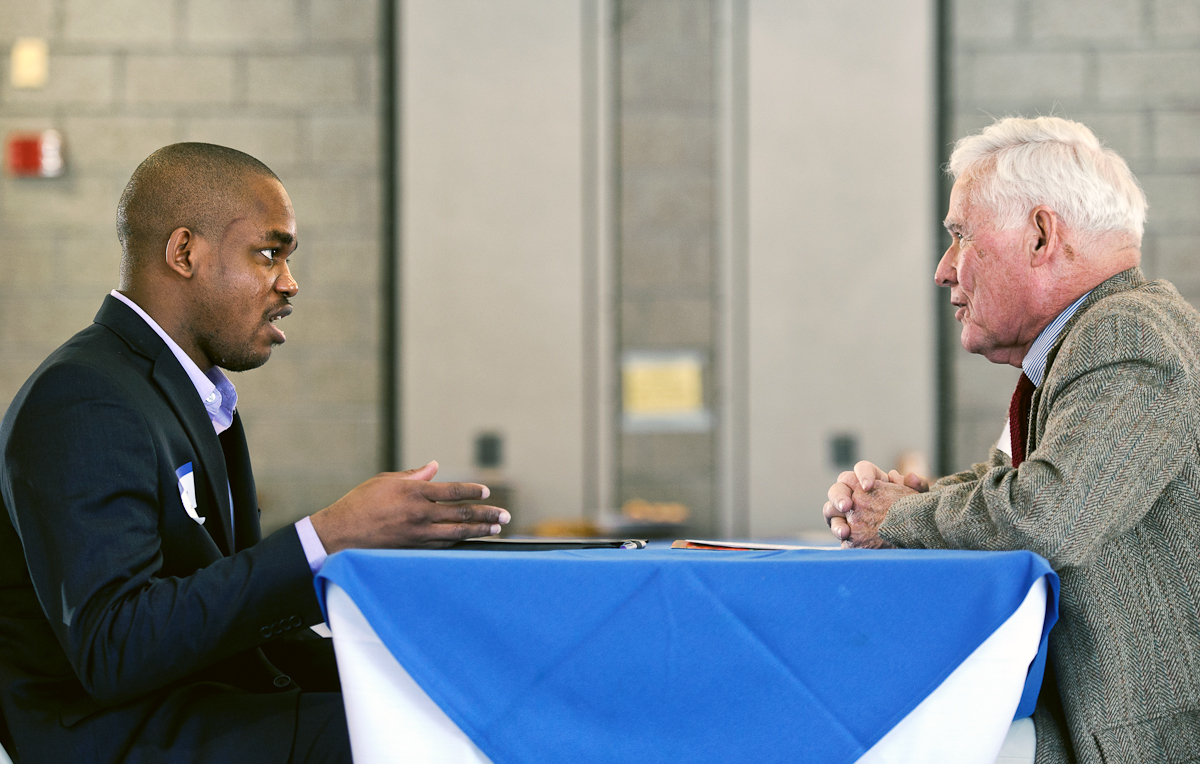 Some 55 nattily attired Hamilton College seniors took part in a dress rehearsal for life Sunday afternoon; they engaged in the Career and Life Outcomes Center's Interview Mojo, which unfolded in the Fillius Events Barn and Tolles Pavilion. A platoon of staff, faculty, alumni, community members – and one parent – played the role of prospective employers and conducted mock interviews with the students, who were advised to come dressed for success. Some had been on interviews or practice interviews, some had not.
Michael de Percin '15 was among the experienced. "I've had four interviews so far this year," the math and economics double-major said. After interviewing at big banks with multiple people in the room, de Percin wasn't nervous about the mojo. Like the rest of the seniors, he was there to sharpen his skills and gather all-important feedback.
The format was modified speed interviewing: Each senior underway went two back-to-back, 30 minute interviews with the pretend employers, who were charged with asking them interview standards such as, "Tell me about one weakness you have that you've always wanted to improve on," or "What do you consider your three best attributes or strengths? Give me an example of how you have demonstrated success in using two of these attributes."
Before the seniors faced the interviews, they received advice from a speaker and through a panel discussion. The speaker, Mara Weissmann P'18, began by asking students to stand, offer their neighbor a "firm, sincere and strong handshake" and then close their eyes and think of one of their big accomplishments. Weissmann prompted students to consider what they gained from the accomplishment that an employee would value. Weissmann, an attorney and human resources professional, is chief executive officer, co-founder and principal trainer of SharpenUrEdge, which provides career mentoring, coaching and training to prepare young adults for entering institutions of higher education and the workplace.
This was the Career Center's fifth Interview Mojo. Students need the practice more than ever, according to Patrick Mullane, Career Center interim executive director. Interviewing and employers' questions have grown more complex over the years, and Interview Mojo aims to increase students' self-awareness and their ability to articulate their skill set, Mullane said.
The mojo panelists provided seniors with concrete tips, said Crystal Kim '15, a sociology major. She said she came away from the event understanding that her strengths as a job candidate are embedded in skills she uses every day: critical analysis, communication and collaboration.
"The chance to hone in on my skills and immediately talk about them during the mock interviews encouraged me to continue practicing and and preparing," Kim said.