7th Annual HamTrek Draws Large Field
---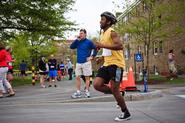 Professor of Music Heather Buchman was the top female individual finisher, Stephen Wright '13 was the top male individual, and Team m-b-h (Jared Mereness '10, Andrew Brodsky '11 and Lucas Harris '12), won the relay in the seventh annual HamTrek Triathlon on May 7.

Wright finished with a time of 50:25, Buchman had a time of 1:07:52 and Team m-b-h finished in 53:39.

Fifty individuals and 33 teams competed in the event that took place after the Class & Charter Day Awards ceremony. Participants swam 21 lengths in the pool, biked nine miles and ran 5 kilometers.