A Career as a Interpreter or Translator is Well Suited to Liberal Arts Grads
---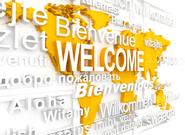 Interpreters and translators work in a variety of settings including corporations, hospitals, courts and nonprofit agencies as well as escort interpreting, where an interpreter accompanies an individual in social and/or "site seeing" settings. Frequently, positions are obtained on a contract basis and obtained through a translation agency.

In addition to fluency (which is usually confirmed through a language proficiency test), candidates need to obtain certification that demonstrates that certain professional standards are met. The primary certification agency in the United State for translators is the American Translators Association. There are a variety of specialized associations that focus on specific settings including, The National Association of Judiciary Interpreters and Translators and The Certification Commission for Healthcare Interpreters.

Translating and interpreting courses that help prepare individuals for certification are offered by a variety of organizations, associations and educational institutions. Recommended institutions include: College of Charleston MA Program in Bilingual Legal Interpreting, Monterey Institute of International Studies, UMass Boston and NYU Center for Foreign Languages and Translation.

Courtesy of the Monterey Institute, you can check out a video on A Day in the Life of a Translator/Interpreter. Visit the Career Center home page for more great stories like this!