A Critical Cinema 5: Interviews with Independent Filmmakers
---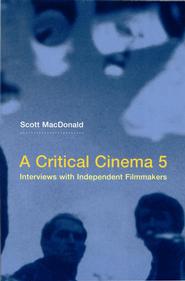 A Critical Cinema 5
is comprised of 14 interviews in which MacDonald engages filmmakers in detailed discussions of their films and of the personal experiences and political and theoretical currents that have shaped their work. The interviews are arranged to express the remarkable diversity of modern independent cinema and the interactive community of filmmakers that has dedicated itself to producing forms of cinema that critique conventional media.
The book includes the first extended conversation with Ernie Gehr; a discussion with Tony Conrad about his collaborations with Jack Smith and his own landmark film, The Flicker; and Kenneth Anger's comments about early and recent work. Nathaniel Dorsky, J. Leighton Pierce, and Japanese independent Shiho Kano discuss their contributions to what Dorsky has called "devotional cinema." Peggy Ahwesh traces the origins and evolution of her defiant, high-spirited feminist filmmaking. Alan Berliner and Phil Solomon remember their years at the State University of New York at Binghamton, years when the university was a flash point for experimental cinema, and discuss the influence of that time on their own work; and Berliner and Robb Moss explore their contributions to personal documentary. James Benning discusses his Westerns, and German independent Matthias Müller details his contributions to Queer cinema and "recycled cinema." Sharon Lockhart talks about her intercultural structural films, and Jennifer Todd Reeves describes what's at stake in her expressionist narratives. Each interview is accompanied by a detailed list of films by each director and a selected bibliography.
Each volume in the "Critical Cinema" series is a distinct work addressing a specific cultural moment and issues dominating the field during that period in time. A Critical Cinema 5 focuses on the evolution of first-person filmmaking and what has become known as Queer cinema. It also addresses the attempts of these 14 filmmakers to "mechanically/chemically/electronically incarnate the spiritual" into their work.
MacDonald is the author of the previous four books in this series, as well as The Garden in the Machine: A Field Guide to Independent Film about Place (2001), all from the University of California Press. He has programmed film series for more than 20 years in central New York. MacDonald taught at Utica College for many years and has been a visiting professor of film at Bard College and the University of Arizona.