A Feast for the Eyes
---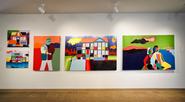 While construction continues on the Wellin Art Museum, scheduled to open this fall, the work of promising Hamilton student artists has been exhibited at various campus locations.

Ten senior art majors' final projects will continue to be on display this week in the Bristol Campus Center Hub. The exhibit, "In Art We Trust," will conclude with a reception on Saturday, May 19, from 1 to 3 p.m.

Students in Assistant Professor of Art Robert Knight's Art 116 & Art 302 displayed their final projects in Kirner-Johnson. The exhibit of 27 students' work was titled "Through the Lens: Hamilton at 200 Contemporary Perspectives on our Culture, History, and Future."

Four sculptures by Deanna Perez '14 are on display this week in the Browsing Room of Burke Library. She crafted the sculptures from the pages of old books.