A Good Deed; Urban Service Experience
---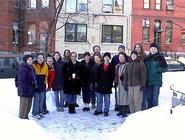 "Freedom is indivisible or it is nothing at all besides sloganeering and temporary, short-sighted, and short-lived advancement for a few. Freedom is indivisible and either we are working for freedom or you are working for the sake of your self-interest and I am working for mine." - June Jordan A New Politics of Sexuality.

Over winter break, approximately twelve Hamilton students, of various academic interests and backgrounds, returned to the Hill a few days early in order to combine their efforts with a small group of professors. They sought to create a positive impact on our community here at school by moving out beyond the physical boundaries of this college. They participated in the newly founded Urban Service Experience (USE) in Utica, which lasted from Wednesday, January 10 until Saturday, January 13.
The USE project was announced to the campus late in the fall semester; the response was very positive and immediate. Thanks to funding from the Kirkland Project and the Office of the President, the pilot was an "Alternative-Spring-Break-like program" in which one can "live and work in Utica for a few days and help out some local organizations", with the added opportunity to experience the cultural life of Utica. The group was originally to include ten students and two faculty advisors, it expanded to include eleven students and a core tag team ten professors and administrators. Some of the faculty involved were Vivyan Adair, Cheryl Morgan, Nese Balkan, Nancy Rabinowitz, Katheryn Doran, Martine Guyot-Bender, Judy Owens-Manley, Gillian Gane, John Bartle, Carol Drogus, Rit Fuller and Jeff McArn. The students were Christine Capeless, Stephanie Baker, Jessica Haab, Sarah Rieber, Linwood Rumney, Amanda Siepioli, Jaime Skiba, Melissa Stoos, Jenny Taransky, Thu Nguyen, and Amanda Taylor. It was this group that slept on the floor of Westminster Church for two nights and participated in the program, plus a younger Balkan and Adair for Friday night.
One of the main focuses of the weekend was that it is almost too easy to remain in a comfort zone that guarantees us food, housing, and an education. That is, it is easy to separate ourselves from the rest of the world on an isolated college campus. It is this transparent wall between us and the rest of the world that keeps us "safe" (a term used loosely, as this does depend on race, sex, gender, ethnicity, ability, and/or sexuality) from the outside world, while at the same time robbing us of the diversity and history of nearby Utica. Although many of us may only live in this area for the four years required for graduation, this does not mean that we should ignore the larger community around us that has needs and could use our assistance. Upon first arriving to Hamilton, a new student is almost completely discouraged from spending time or money in Utica, as if the admittedly run-down burgh is not worth the time or effort required for a visit. The USE program challenged these assumptions with an architectural/historical tour of Utica, a tour of social services in Utica, a visit to the Munson Williams Proctor Art Institute, visits to different restaurants and coffeehouses, and most importantly by offering community service experiences in a variety of settings. These included cooking and cleaning at Hope House, helping at St. Francis de Sales after school program, bowling with kids from the House of the Good Shepherd, and spending time with senior citizens at the Loretto Center.
We also paid a visit to the Refugee Center in Utica and learned how the city is planning to and has utilized the resettlement of refugees to help bolster and rebuild Utica. The history of Utica was another major emphasis, which we learned about by watching a documentary, as well as by traveling through the city. Perhaps the movie theme was a trifle bland, but it became clear that Utica was at one point a productive and lively city that would have stood in stark contrast to the depression of modern-day Utica. With the migration of factories from the Central New York area to the South (and eventually abroad), as well as the closing of military bases in the area, Utica gradually succumbed to the depression that grips the city to this day. Perhaps the most refreshing aspect of the program was that even though many of the people we met lead very hard lives, they are very hopeful about Utica's future, and are convinced that the city may re-establish the respectability and grandeur of its heyday.
Most importantly, it became clear that just a few hours a week or month of volunteer time can make a big difference to the people that are assisted. So, while we are here at Hamilton, why not venture off the Hill and help them along? USE plans to continue as a student-faculty run organization, with special emphasis on social work in Utica and opportunities to get involved during the semester, and future plans may include this experience as an alternative to the Adirondack Adventure for incoming first-year students.
Written by Jaime Skiba '02

For additional volunteer opportunities, look at the Hamilton Action Volunteer Outreach Coalition web site.