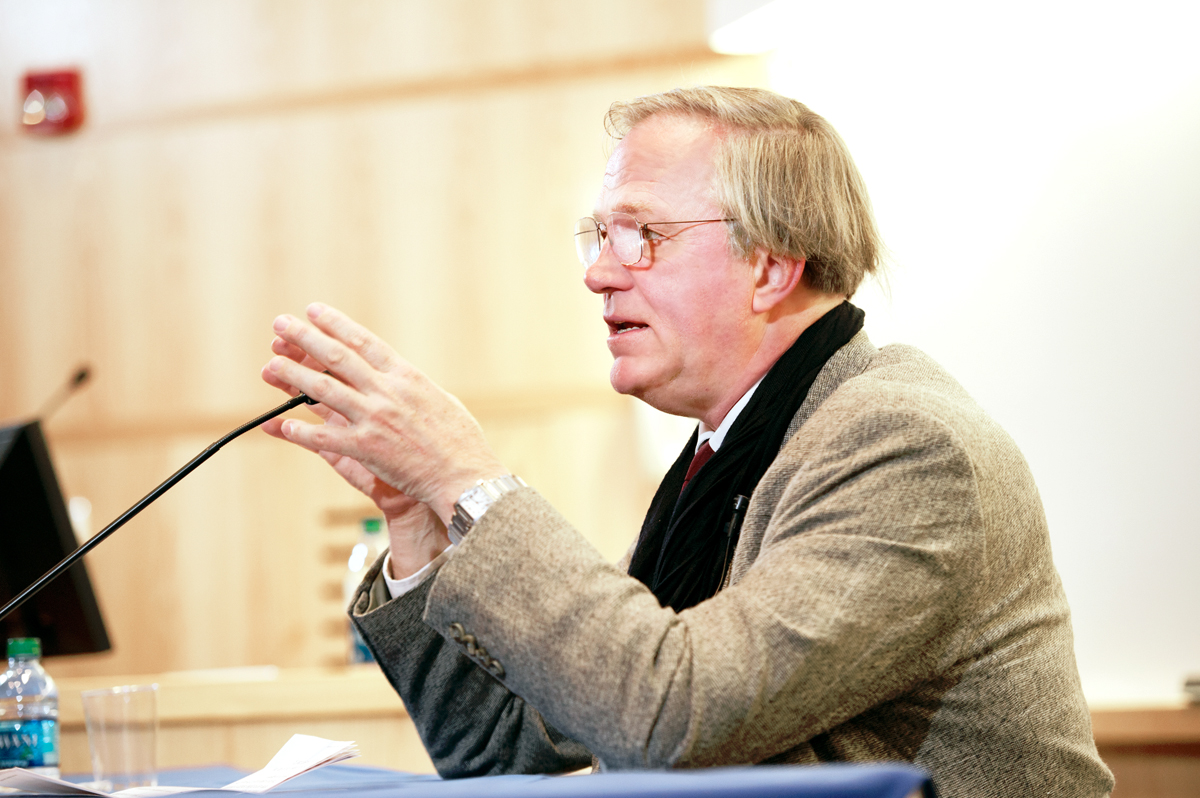 Hamilton welcomed Professor Robert Storr to campus to give the Celebration of the Arts opening address in one of the first events of Fallcoming/Family Weekend on Oct. 9. It was one of many to celebrate the dedication of The Kevin and Karen Kennedy Center for Theater and the Studio Arts (KTSA).
Storr is a professor of painting/printmaking and dean of the Yale School of Art. He is also the consulting curator of modern and contemporary art at the Philadelphia Museum of Art, and proudly served as commissioner of the 2007 Venice Biennale, a major biennial contemporary art exhibition in Venice.
A graduate of Swarthmore College and the School of the Art Institute of Chicago, Storr is a highly accomplished artist and art critic with years of curating experience, and the recipient of numerous awards and grants.
Aside from his many honors and academic achievements, Storr gave a humble and largely conversational lecture. Describing himself as "paleo-digital," he used no slides or visual accompaniment, speaking directly to his audience and balancing personal narratives, historical lessons and professional advice.
The talk focused mainly on the importance of the visual arts, and their especial significance in modern American society, wherein their reputation has suffered skepticism and misunderstanding. Because many artists rely on innate talent or inspiration for their work rather than scholarly research, "people don't think that artists think."
In fact, Storr noted, the most historically successful and recognized artists were ones that were educated. Several 19th century Bohemian artists, for instance, failed in their profession because they did not have the learned skill set to succeed. In modern times, artists need to be articulate in order to promote and justify their work, especially, Storr joked, when "other artists say things about their work that they don't agree with."
Throughout the talk, Storr expressed a great pride for Yale's art program, saying, "I come from the first American university to fully embrace the study and the practice of the visual and theater arts." Although Yale has traditionally taught the arts with an established basis, its program (professors, curriculum, etc.) has indeed seen many necessary changes over time, which Storr spoke of positively.
He was thus very impressed with Hamilton's new arts department improvements, particularly the KTSA. "You're setting up another nodule," Storr remarked, "there are several major universities that still don't do this." Furthermore, he urged the Hamilton community, and all college communities, to "raise up" and "subsidize the visiting arts program," for the sake of the students and the future of the art industry.
Storr said that artists are "privileged because they have a place to put all the emotional energy and cognitive understanding." Although artists are frequently, understandably worried about their futures—due to the industry's often unclear life path—he said such people should strive for "middle-class ambitions" and have "reasonable life expectations." Storr added, "Excesses of economy have set standards of exaggerated rewards at the top." He reminded any impatient or concerned art students that they should embark on this path only if they feel the necessity to do so; subsequently, however, it is the universities' duty to serve their needs, for to not would be both irresponsible of the college and detrimental to the future of art.
Storr's talk was intellectually stimulating and fundamentally uplifting, providing historical landmarks of significant changes in the arts world, and commending Hamilton for moving in such a direction. His final, self-reflective advice was also poignant: "If I spend my day doing things I love and doing things I am interested in—whether to make money or not—then I have spent my day well…The one good thing about artists," Storr remarked, "is that they never are at a loss for work."