A Night at the Philharmonic
---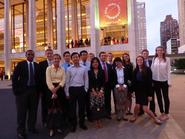 The evening of Sept. 19 was a fine one for students on the Program in New York. The group was treated to dinner at Gabriel's, followed by a performance at the New York Philharmonic, all sponsored by alumnus Kevin Kennedy '70 and his wife Karen.
The New York Philharmonic is entering its 171st season, being only a few decades younger then Hamilton itself. Like Hamilton the symphony is constantly supporting the classics, while also encouraging new innovators.
The first piece, "...quasi una fantasia..." was only finished in 1988, and was written with not just sound in mind, but space as well. Rather than having all of the performers on stage, as is the norm, a few were on the stage and a few were opposite them, in the back of the roughly cubic music hall. They started so delicately, the conductor leading the pianist in playing a single note at a time; soon enough though they began incorporating other instruments, including bongos, Indian bells and even harmonicas.
The second piece, Beethoven's "Piano Concerto No. 3 in C minor, Op. 37," was much more traditional. A constant back and forth between the pianist, playing solo, and the entire orchestra replying to him, gave the music an almost conversational feel. The pianist, Leif Ove Andsnes, displayed a mastery over his instrument.
After intermission the third piece began. "The Rite of Spring" was a fantastic piece in the truest sense, originally written for an otherworldly ballet, a work so controversial that it brought its audience to riot on opening night in 1913. That strength, daring and sense of the mystical still shined through in the Philharmonic's performance.
All in all the Philharmonic proved a very memorable experience, and left many members of the group looking forward to attending the Opera toward the end of the semester.