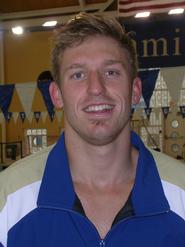 Although he's studying barracuda and schoolmaster snappers with the Cape Eleuthera Institute (CEI) in the Bahamas, Michael Weinzierl's '15 summer research often feels more like a vacation. Weinzierl is a geoscience major who has "always been interested in marine biology and conservation." After learning about earth processes from a geological perspective through courses at Hamilton, he decided to apply for hands-on research over the summer. Weinzierl's internship is supported through the generosity of the Joseph F. Anderson Fund, managed by the Career Center.
Weinzierl is a part of the Flats Ecology research team, which is "measuring metabolic rate and oxygen consumption of keystone and economically important flats species." The team is researching the effects of climate change in regards to the anticipated global sea surface temperature rises over the next century. Weinzierl is also examining the consequences of sunscreen exposure on bonefish populations by measuring bacterial growth and protective slime coating thickness in wild and captive settings.
On a day-to-day basis, Weinzierl is responsible for "testing water parameters of the various Flats holding tanks, setting and collecting temperature probes throughout mangrove creeks along the cape, fishing for barracuda, setting and retrieving underwater traps, watching and adjusting oxygen and temperature probes and swim tunnels." Observing the effects of human populations on the native ecosystems, he states that "we may not realize the effects we are having on the climate and oceans because we are not the first ones to be impacted - the island natives are."
Although he is grateful for the fish husbandry techniques he has learned, Weinzierl confessed that, "most importantly, CEI and the associated Island School have taught [him] what true conservation and sustainable agriculture, aquaculture and fishing looks like." He went on to explain that "almost the entire economy of these areas rely on commercial fishing, which has recently been threatened by coastal development, unsustainable fishing practices and invasive species."
Weinzierl is enjoying his work; not only is he learning about the delicacy of marine ecosystems, but he has also come to understand the lifestyle of the locals. He said that "life in the Bahamas is much slower paced because people are happy with where they are and feel no need to hurry or stress, and practicing conservation is a great way to ensure this happiness for future generations."
While he is not entirely sure about his plans for after graduation, Weinzierl is considering graduate school for geoscience or ecology. He is also considering taking a year off to pursue independent research with the support of a Watson or Fulbright scholarship.
Michael Weinzierl is a graduate of Western Reserve Academy in Hudson, Ohio.