A student's discovery: research and a focused future
---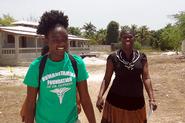 Jorett Joseph '15 says she could not have foreseen the experiences and studies she would embrace at Hamilton College, among them an Africana studies major and grant-funded research. She expected to major in government but fell in love with Africana studies and majored in both.
She secured a College grant for a research project, the first part of which examined the role and accomplishments of black women in mutual aid societies in the 19th and 20th centuries.
The second part looked at how young black women today can learn from the past and spread justice in their communities. For that, Joseph traveled to Haiti to help create a literacy program at an orphanage, among other work with the nonprofit Humanitarian Foundation of Doctor Dufreny.
Just before Haiti, Joseph interned in human resources at Steve Madden Ltd.; when officials there heard about her project, the company donated and shipped shoes, book bags and other items to the orphanage, among other support.
The internship helped Joseph sharpen her long-term goal – law school and then working with fashion corporations to develop their social responsibility – but she knows other options may emerge.